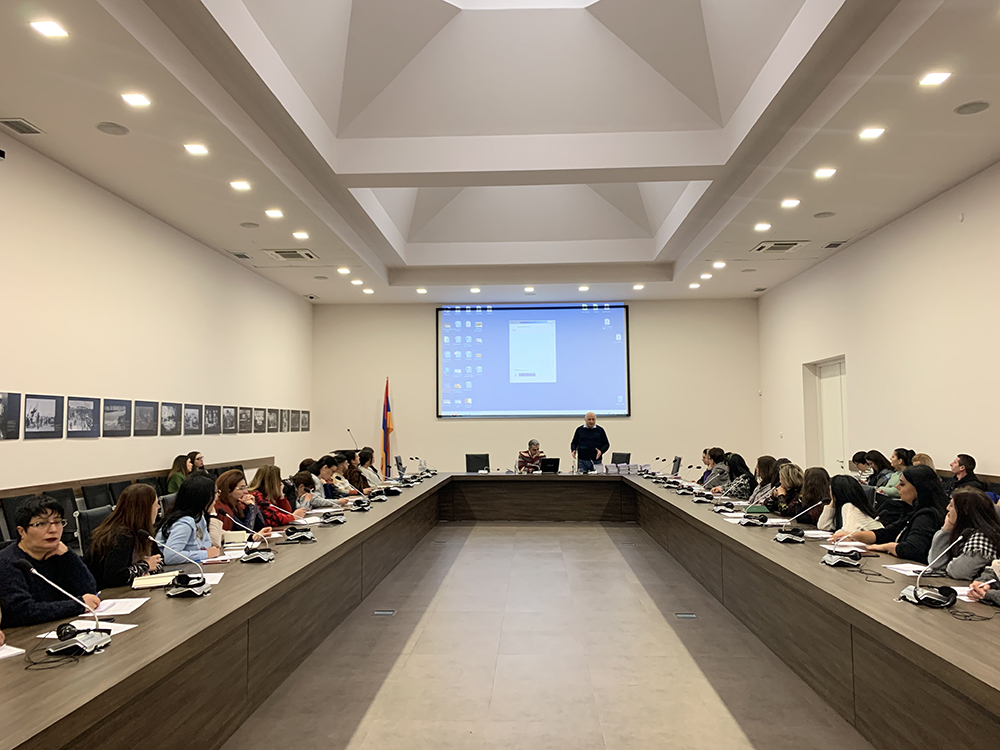 Today a two-day winter school with courses designed for tourist guides was launched at the conference hall of the Armenian Genocide Museum-Institute at the initiative of the Armenian Association of Professional Tourists Guides and in cooperation with the Armenian Genocide Museum-Institute. The first meeting was held on 1 February.
AGMI Director Harutyun Marutyan welcomed the participants and wished them a fruitful work.
Nearly 50 tourist guides had an opportunity to hear different lectures on the Armenian Genocide, enrich their knowledge and direct their questions to the speakers.
Dr. Suren Manukyan, Head of the AGMI Vahagn Dadrian Department of Comparative Genocide Studies, was among the speakers of the first day and his talk was entitled "Armenian genocide: How and why: The main causes and mechanisms of the Armenian Genocide." Associate Professor Dr. Kristine Melkonyan, Acting Head of the Department of Turkey, Institute of Oriental Studies, NAS RA, delivered a lecture on "The main provisions of the Treaties of Sevres, Moscow, Kars, Lausanne." AGMI senior researcher Dr. Aram Mirzoyan talked about the "Germany and the Armenian Genocide. Triangle of reality, myths and humanity", while AGMI senior researcher Dr. Robert Tatoyan presented "The Armenian Genocide and Russia's Response: military-political, humanitarian and literary-cultural aspects".
On the second day, Dr. Professor Ruben Melkonyan, Dean of YSU Faculty of Oriental Studies, talked about the Turkish denialism in a presentation tilted "Turkey's denial policy: traditional methods and new trends." This was followed by a lecture of AGMI researcher Regina Galustyan "Turkish Nationalism: from Young Ottomans to Mustafa Kemal". AGMI Scientific Deputy Director Dr. Edita Gzoyan talked about "The importance of Young Turk trials: legal analysis," while AGMI head of Collections Gohar Khanumyan presented on "Armenian Nemesis in the historical and legal light." Dr. Levon Gevorgyan, Assistant to the Chair of European and International Law of YSU, presented "The issue of international legal responsibility for the Armenian Genocide: possible forms and types of compensation".
The last lecture was delivered by the AGMI Director Dr. Harutyun Marutyan "On some of the highlights of the presentation of the Armenian Genocide," who also closed the event.