01.08.2023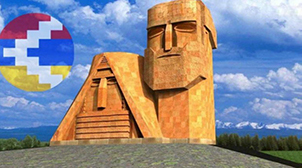 On 1 August 2023, the Armenian Genocide Museum-Institute, in collaboration with the UNESCO Department on Prevention of Genocide and Other Atrocity Crimes at Yerevan State University and a number of civil society organizations from the Republic of Artsakh, submitted an application to Ms. Alice Wairimu Nderitu, the Special Adviser of the UN Secretary-General on the Prevention of Genocide.
Alongside the application, a comprehensive report was submitted to the Special Adviser, detailing the international crimes perpetrated in Artsakh as a direct consequence of the illegal blockade of the Berdzor (Lachin) Corridor in the Republic of Artsakh. The report specifically delves into the extensive and grave violations of human rights and international humanitarian law committed by Azerbaijan and its representatives, based on ethnic origin. The report strongly asserts that since its inception the blockade of the Berdzor (Lachin) Corridor has constituted an international crime, specifically classified as a crime against humanity. Moreover, it highlights that the situation that has emerged after 15 June 2023 is characterized as genocide, which, among other things, is carried out by the deliberate creation of such conditions of life that are aimed at the complete physical destruction of the people of Artsakh.
The report provides factual evidence that Azerbaijan's genocidal intention is focused on the destruction of the ethnic Armenians of Artsakh as a distinct group, which has been explicitly expressed on numerous occasions at the highest political level in Azerbaijan. The crime of genocide in Artsakh is carried out within the context of ethnic discrimination against Armenians, reflecting a state-sanctioned genocidal policy rooted in Armenophobia.
As part of the application, a request was made to the Special Adviser to consider activating the early warning mechanism under her mandate, with a focus on bringing the critical situation in the Republic of Artsakh to the attention of the UN Secretary-General and, through him, to the Security Council.