02.02.2023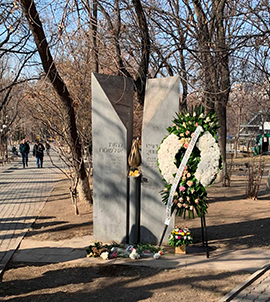 For the fourth year in a row starting in 2020, the Armenian Genocide Museum-Institute has organised the "Holocaust Remembrance Week" series of events on the occasion of the International Holocaust Remembrance Day (January 27), at the end of January.
This year, the series of events started on January 27, with the commemoration of the innocent genocide victims at the Holocaust and Genocide Victims Monument. The event was attended by representatives of Armenia's Jewish community, led by its head, Rima Varzhapetyan; the director of the "Armenian Genocide Museum-Institute" Foundation Harutyun Marutyan; Vardan Astsatryan, the Head of the Department of National Minorities and Religion of the RA Government and others. In his speech near the monument, AGMI director Harutyun Marutyan said:
"Auschwitz-Birkenau was liberated 78 years ago on this day, January 27 and this very day was declared, by the United Nations in 2005, as International Holocaust Remembrance Day. There are not many survivors of the Holocaust after 78 years and the Jews can learn from the Armenians how to preserve and pass on the memory of the genocide to future generations. Today, the victims of the Holocaust are remembered here not only by the Jewish community of Armenia, but also by the Republic of Armenia itself. It is important, however, not to confuse the commemoration of the Holocaust with the politics of the State of Israel. At the moment, 120,000 of our compatriots are under siege in Artsakh as a result of Azerbaijan government policy and it is appropriate to note that two dozen Jewish scientists, journalists and activists sent a letter to the Israeli Foreign Minister, asking for help to prevent a humanitarian disaster in Artsakh."
An online lecture by Professor Donald Bloxham of the University of Edinburgh, Scotland, titled
"The Third Reich, War and the Holocaust"
was also delivered in the AGMI conference hall on the same day. Professor Bloxham referred to the ideology and policies of Nazi rule in Germany from 1933-1945, which were anti-Jewish and racist, resulting in the genocide of the Jews during the Second World War. The lecture was followed by a question-and-answer session and an interesting discussion ensued.
The "Holocaust Remembrance Week" series of events ended on February 1. Suren Manukyan, head of the Vahagn Dadrian Department of Comparative Genocide Studies, presented a lecture titled
"The Jewish ghetto as a tool for the implementation of the Holocaust"
. The speaker presented the creation of the ghettos, which were places of forced isolation for Jews in the territories controlled by Nazi Germany and its allies during World War II, stressing that they were, in fact, a means of exterminating Jews, because isolating and separating Jews would facilitate the process of exterminating them. The speaker touched on the types of ghettos, the formation and activity of their self-governing bodies (the Judenrats), as well as the inhumane conditions, especially hunger and disease, within them. The lecture ended with a discussion.