02.06.2023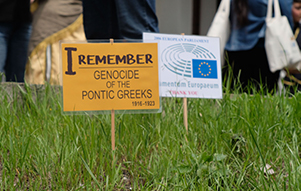 A series of events dedicated to the memory of the victims of the Greek Genocide organised in the Ottoman Empire took place from May 19 to 27 thanks to the initiative of AGMI and with the participation of the Greek community in Armenia.
Flowers were laid at the memorial stone in the yard of the Greek Centre in the town of Alaverdi took place, followed by a prayer by Rev. Mikael Shaghoyan, pastor of the Alaverdi community, in memory of the martyred Greeks on May 19.
The event was attended by Arkadi Tamazyan, head of the Alaverdi community, Emmanuel Asimakopoulos, the Greek Consul in Armenia, Suren Manukyan, head of the AGMI Dadrian Department of Comparative Genocide Studies, members of the Greek community of Armenia and others.
Greek and Pontic songs were sung by the Greek community choir.
The presentation of writer and researcher Ara Ketibian's book "The Genocide of Ottoman Greeks: Reports from the U.S. Press (1913-1922)" took place in the AGMI conference hall on May 20.
Harutyun Marutyan, Director of the Armenian Genocide Museum-Institute, researchers and members of the Greek community were all present at the presentation. Members of the Greek community expressed their gratitude to Ara Ketibian who, being Armenian, had researched and prepared works on the genocides of other Christian nations living in the Ottoman Empire for publication.
The attendees also laid flowers at the Eternal Fire of the Armenian Genocide Memorial in memory of the martyred people of Pontus.
Vasileios Meikhanetsidis, a lecturer at the University of Athens, gave an online lecture in the AGMI conference hall, presenting the causes, methods and consequences of the Greek Genocide in the light of the discriminatory policy against Christians in the Ottoman Empire on May 23.
The Khachatur Abovyan House-Museum hosted a series of lectures by the researchers of the "Theolab" Centre for Science and Analysis, dedicated to Armenian-Greek historical and cultural ties on May 27.
Speeches were given there by Shushan Khachatryan, Heriknaz Grigoryan, Anna Ohanjanyan and Hayk Hakobyan.
This event concluded the week dedicated to the memory of the Pontic Greek Genocide.