04.07.2023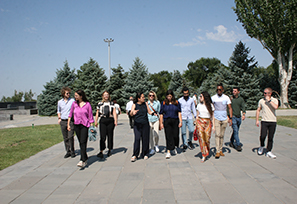 Students of the Geneva Academy of International Humanitarian Law and Human Rights visited the Armenian Genocide Memorial on July 4 in the frames of a study visit to Armenia.
The guests were welcomed by Edita Gzoyan, AGMI Deputy Scientific Director, who presented the history of the creation of the Memorial. She then presented the story of the three khachkars placed at Tsitsernakaberd in memory of the Armenians who died in the massacres organized by the Azerbaijani government in the cities of Sumgait, Kirovabad (Gandzak) and Baku at the end of the 20th century, as well as the stories of the five freedom fighters buried in front of Hushapat during the Artsakh struggle of survival—these components of the Memorial emphasize the connection between the Armenian Genocide and contemporary acts of persecution and violence against Armenians. Edita Gzoyan also referred to the historical and legal aspects of the Artsakh issue, presented Azerbaijan's anti-Armenian actions and propaganda. She presented also about Hushapat, the reverse side of which contains, in special niches which house small jugs, soil from the graves of a number of foreign public figures, politicians, intellectuals, dignitaries and missionaries who raised their voices in protest against the widespread massacres and deportations of Armenians carried out by the Turkish governments in the late 19th and early 20th centuries.
The students also toured the Armenian Genocide Museum, accompanied by AGMI researcher Regina Galustyan, and became acquainted with the permanent and temporary exhibitions, after which, they had a meeting-discussion with Edita Gzoyan on various aspects of the Armenian Genocide in the AGMI conference hall. Gzoyan presented the features of the Armenian Genocide to the students of the Geneva Academy of International Humanitarian Law and Human Rights and made comparisons with other genocides of the 20th century. The students were interested in the process of recognition and reparation of the Armenian Genocide. At the end of the meeting, the students expressed their thanks for the warm reception and interesting discussion.