05.10.2015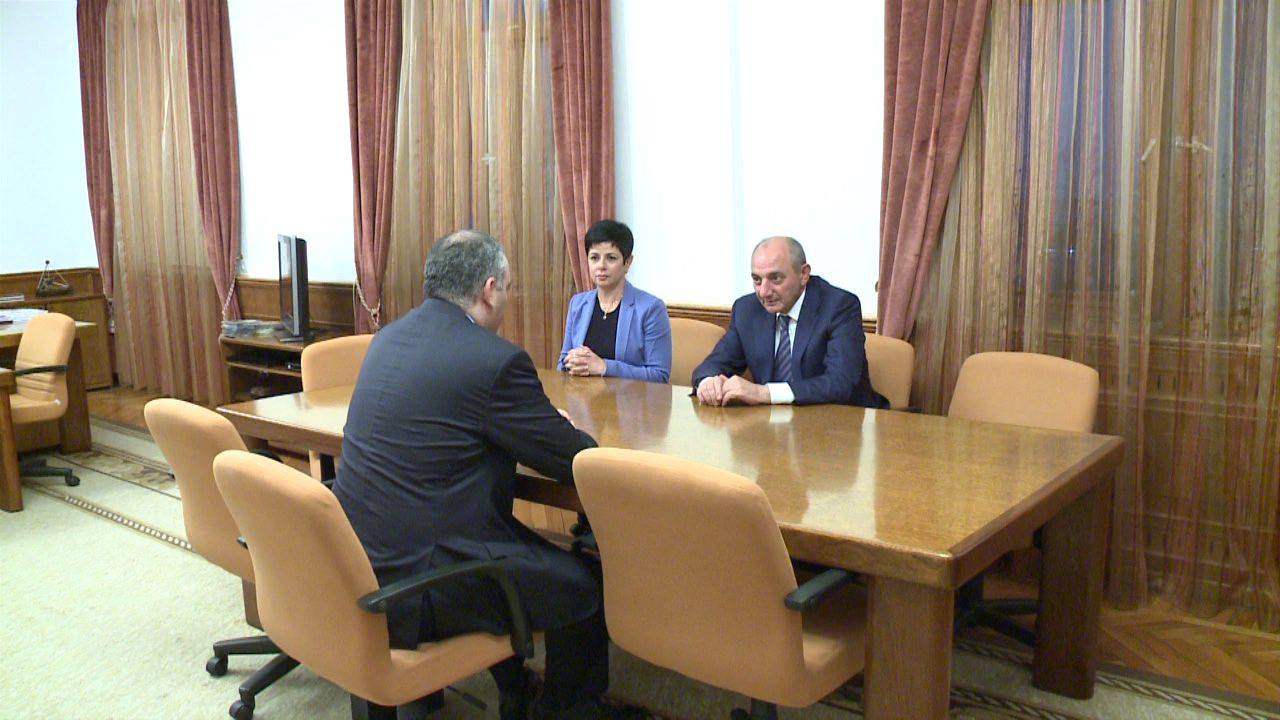 On 5 October, President of Artsakh Republic Bako Sahakyan met the Director of Armenian Genocide Museum-Institute Hayk Demoyan.
A number of issues related to the researches, studies and international recognition of the Armenian Genocide were discussed.
The presentation of two books by Hayk Demoyan "Turkey's Foreign Policy and the Conflict of Karabakh" and "Armenian Genocide First Page Coverage in World Press" took place at Artsakh State University.
In his speech NKR National Assembly Speaker Ashot Ghulyan highly appreciated the work of Armenian Genocide Museum-Institute both in organizing 100th anniversary events and raising awareness about the genocide, underlining the significant of the academic work carried out by Hayk Demoyan and the importance of his consistent social performance in this context. Presenting the prehistory of his monograph "Turkey's Foreign Policy and the Conflict of Karabakh" Hayk Demoyan underlined that it is based on the analysis of Karabakh conflict from the viewpoint of Armenian-Turkish relations and foreign policy of Pan Turkism. In this regard the author emphasized the significant of Artsakh for all Armenians, calling on every Armenian to contribute to the development of Artsakh.
Talking about the future plans Director of Armenian Genocide Museum-Institute mentioned that in the near future a number of serious projects will be carried out by the participation of Artsakh Republic.
Demoyan presented to the guests posters presenting Armenian Genocide in first pages of world press and explained the contents in detail. He also delivered a lecture at Artsakh State University, where he presented the current results of 2015, internal and external achievements of the museum-institute, which increased the opportunity to introduce the fact of Armenian Genocide to the world.
As for him the most important achievement is the change in the international community approach. Temporary exhibitions opened in 50 capitals all over the world had a great role in it, throughout which the local societies had the opportunity to see the links between Armenian Genocide and their own national history and memory. Demoyan also stressed the new possibilities of Tsitsernakaberd Memorial Complex. The renewed Memorial Complex opened in April 2015 and the new exhibition are capable to have a strong influence and present the theme of Armenian Genocide properly to the visitors. In general, level of awareness has increased around the world, people in different places over the world who had never known about the Armenian Genocide, are now aware of Armenian Genocide, Armenians and Armenia- mentioned Director of Armenian Genocide Museum-Institute.
The event was attended by NA deputies, foreign affairs, culture, and youth affairs ministers, and representatives of Artsakh State University.