05.11.2021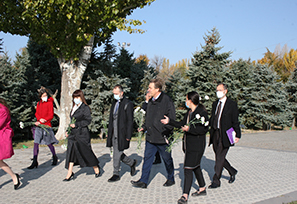 PACE Monitoring Committee co-rapporteurs on Armenia Kimo Kiljunen and Boriana Åberg, who arrived in Armenia on a fact-finding mission, visited the Armenian Genocide Memorial accompanied by the deputies of the Armenian National Assembly, Eduard Aghajanyan and Nazeli Baghdasaryan.
The guests were welcomed by Deputy Director for Scientific Affairs of the Armenian Genocide Museum-Institute Edita Gzoyan, who presented to the guests the history of the creation of the Memorial. Dr. Gzoyan also told the guests the story of three khachkars placed in Tsitsernakaberd Park, which are dedicated to the memory of the Armenians who perished during the ethnic cleansing of the Armenian population within Azerbaijan at the end of the last century.
The European guests placed flowers at the Eternal Flame and honored the memory of the innocent martyrs with a minute of silence. They also toured the Armenian Genocide Museum, saw with permanent and temporary exhibitions.
At the end of the visit PACE Monitoring Committee co-rapporteurs left notes in the Honorable Guests' Book.