06.06.2023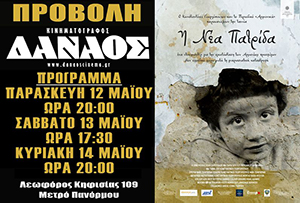 The screening of the full-length documentary film "New Homeland," by the Greek director Konstantinos Georgopoulos, was held at the "Danaos" cinema in Athens on May 12, 13 and 14.
The film covers the emigration of Armenians to Greece in the 1920s as well as their resettlement and subsequent life in different regions of the country. It was screened within the framework of the Thessaloniki Documentary Film Festival.
The film is the first historical overview of the Armenian community that took shape in Greece; the life of the Armenian exiles, after the Armenian Genocide and the Asia Minor catastrophe, is addressed (approximately 100 thousand Armenians were expatriated to Greece after 1922).
Rare archival materials are shown in the film thanks to cooperation with the "Armenica"
[1]
magazine. Konstantinos Georgiopoulos, head of video and audio production of the Greek newspaper "Kathimerini" (Daily) and director of the film, focuses on the unknown testimonies and stories that the first generations of exiled Armenians preserved and passed on to the director.
The film highlights the unknown aspects of the recent history of modern Greece, which have remained vivid in the collective memory of the local Armenians. In the film there are testimonies from Kokkinia, Neos Kosmos, Lavrio, Thessaloniki, Xanthi, Komotini, Alexandroupoli, Didymoteicho, Heraklion, Syros, Yerevan, etc.
The film also shows a class of sixth grade students of Neos Kosmos Elementary School, the goal of which is to preserve the Armenian identity in modern Athens. By studying lessons on Armenian history, the students strive to preserve Armenian culture and customs in the Greek-Armenian community.
The film also includes episodes from the play "Angel Kurdyan's Notebooks," the director and main character of which is the well-known actress Kristina Aleksanyan. "New Homeland" is an independent production; the costs of filming were met by donations and sponsorship by members of the Armenian community in Greece.
Tehmine Martoyan, senior researcher in the Armenian Genocide Victims' Documentation and Data Collection department of the "Armenian Genocide Museum-Institute" Foundation, was also present at the screening of the documentary film "New Homeland" at the "Danaos" cinema in Athens. She also participated in the shooting of the film and presented facts and testimonies regarding the extermination of the Armenians and Greeks of Smyrna and the burning of their neighbourhoods.
A short clip of the film is available at the following link:
https://www.kathimerini.gr/culture/cinema/562416259/i-nea-patrida-i-sygklonistiki-istoria-ton-proton-armenion-stin-ellada/
.
Footnote
[1] The Greek-language magazine "Armenica" (https://armenika.gr/ ) is a quarterly periodical published in Athens since May 1998 and has many readers. The magazine provides information about current issues in Armenia and the Armenian Diaspora including, at the same time, interesting interviews with representatives of the political, artistic and scientific spheres.