09.02.2021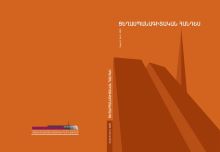 The second issue of
Ts'eghaspanagitakan Handes
of 2020 has been published.
As part of the efforts to internationalize the AGMI journals, a separate website for the AGMI publications has been launched:
https://agmipublications.asnet.am/
. You can find the issues of our journals, as well as other AGMI publications on this page.
AGMI has become a member of the international scientific indexing system Crossref and henceforth our journal articles will have DOIs (Digital Object Identifier).
Content of this issue:
Shushan R. Khachatryan
- Hailde Edip and the Turkification of the Armenian Children at Antoura Orphanage: Identification of the Problem Field ...9
Narine V. Margaryan
- Tun Pupils' Magazine of Jbeil Orphanage։ an Attempt of National Reconstruction ...42
Anna A. Vardanyan
,
Tehmine R. Martoyan
- Tracking the Japanese ship: the Rescue Route of Smyrna's Armenians and Greeks ...76
Narine S. Hakobyan
- Western English-language Historiography of the Hamidian Massacres (1970s-2010s) ...96
Aram R. Mirzoyan
- Some Prospects for Studying the Complicity of German Empire in the Armenian Genocide ...121