09.06.2023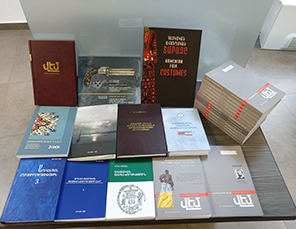 Thanks to the tradition of cooperation between the AGMI and various scientific structures in Armenia, the AGMI library has been enriched with about 120 books and journals in recent years. A significant number of these are the issues of "Vem," the Pan-Armenian quarterly journal received from the ARF History Museum (around 105 issues). Valuable publications have also been donated by the History Museum of Armenia and the Republic of Armenia's National Academy of Sciences Institute of Oriental Studies.
All these books and journals have found their places in the AGMI library and will serve both the institute staff as well as reading room visitors.
The AGMI has, since 2020, donated more than 450 items from its catalogue of published books and journals to the following institutions: the library of the Mother See of Holy Etchmiadzin, the Matenadaran, YSU, RA NAS Fundamental Library and various institutes, the National Archives, National Library, History Museum, Yerevan History Museum, ARF History Museum, Sardarapat Armenian Ethnography Museum and the A. Isahakyan Central Library.
The AGMI thanks all its partners for their effective cooperation. We hope that this will continue.