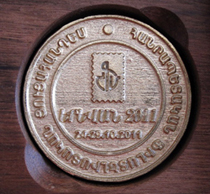 The union of the philatelists of Armenia opened a republican philatelistic exhibition in Yerevan city's History Museum dedicated to the 20th anniversary of the Republic of Armenia and Yerevan day. For the first time AGMI participated in such kind of exhibition presenting philatelistic items from the museum collection under the name "Genocide and humanitarianism".
The exhibition included postcards, covers, rare stamps, non-postal charity stamps etc. The memorial postcard issued by the AGMI also were the part of the exhibition. The exhibition was prepared by the efforts of the AGMI researchers Gohar Khanumyan and Tatevik Ghalthakhchyan.
Based on the decision of the jury AGMI exhibition was awarded with Gold medal.