01.09.2023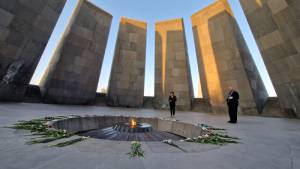 Strasbourg Mayor Jeanne Barseghian, who arrived in Armenia to deliver humanitarian aid to Artsakh as part of a delegation led by Paris Mayor Anne Hidalgo, visited the Armenian Genocide Memorial on August 31.
The guests were welcomed by Harutyun Marutyan, AGMI Director, who described the history of the creation of the Memorial complex. He then told the story of the three khachkars placed within the confines of Tsitsernakaberd in memory of the Armenians who died in the massacres organised by the Azerbaijani government in the cities of Sumgait, Kirovabad (Gandzak) and Baku at the end of the 20th century, as well as the biographies of the five freedom fighters buried in front of Memory Wall during the Artsakh struggle for survival, emphasising that contemporary acts of persecution and violence against Armenians were a continuation of the Armenian Genocide.
At the end of the visit AGMI Director Harutyun Marutyan, presented Jeanne Barseghian with books about the Armenian Genocide.