11.10.2023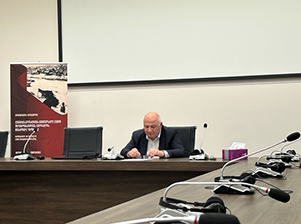 The entire AGMI staff had a farewell meeting with its retired former director Harutyun Marutyun, whose five-year term of office ended on October 5. It took place in the AGMI conference hall on October 10.
He thanked everyone for their meritorious collective work of the past five years and said that after completing his term as director, he would be focusing on scientific activities, continuing his work at the Republic of Armenia's National Academy of Sciences Institute of Archaeology and Ethnography (as the head researcher) and within the AGMI as a part-time head of department. The staff expressed their thanks and appreciation to him during the meeting, emphasising the AGMI's achievements in all the areas of its activity during the last five years, greatly appreciating his merits in both human and work-related relationships and wishing him new scientific achievements.
During the event Harutyun Marutyan was awarded the AGMI's commemorative "Fridtjof Nansen" medal in appreciation of his work and for the significant contribution he made to the development of all areas of the "Armenian Genocide Museum-Institute" Foundation, as well as for the popularisation of the Armenian Genocide and the Artsakh issue during his five-year administration.
It should be noted that the Board of Trustees of the Armenian Genocide Museum-Institute appointed Edita Gzoyan, Deputy Director for Scientific Works of the Armenian Genocide Museum-Institute, as the temporary director of the AGMI, setting her term of office to last until the election of a new director.
The summary of former director Harutyun Marutyun's activities during the five years of his tenure may be found in his interview on the Genocide Museum website:
http://www.genocide-museum.am/arm/05.09.23.php
։