19.01.2023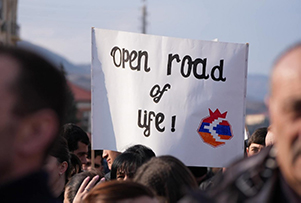 Genocide is not an event but an unfolding process.
According to Raphael Lemkin, the lawyer and human rights activist who coined the concept itself, the term "genocide" encompasses physical annihilation of a group through direct perpetration of harm or indirect action that contributes to this goal. Furthering this assertion, Lemkin also argued that "genocide does not necessarily mean the immediate destruction of a national group...but is intended rather to signify a coordinated plan of different actions aiming at the destruction of essential foundations of the life of national groups, with the aim of annihilating the groups themselves." With this perspective in mind, Lemkin viewed the Nazis' passive assaults against the Jews—such as apportioning food, depriving people of basic needs to preserve health and life, withholding firewood and medicine, gathering people under conditions detrimental to health— as acts of genocide.
The concept was then incorporated into the United Nations Convention on the Prevention and Punishment of the Crime of Genocide, Article 2; among other acts, the convention stated that "genocide means any of the following acts committed with intent to destroy, in whole or in part, a national, ethnical, racial or religious group, as such … c) deliberately inflicting on the group conditions of life calculated to bring about its physical destruction in whole or in part." Thus, the Genocide Convention defines genocidal acts as not only those causing the immediate physical destruction of a group, but also the acts which create conditions leading to physical destruction, including the infliction of mental harm.
One method of committing genocide in an indirect, non-immediate manner is what is defined as genocide by attrition. According to famous human rights and genocide scholar prof. Helen Fein, genocide by attrition occurs when a group is stripped of its human, political, civil and economic rights over an extended period. Over time, this leads to the deprivation of conditions necessary to sustain life among victims of these policies generating a deliberately-inflicted crisis of survival that leads to the erasure and extermination of the targeted group.
In other words, genocide by attrition is a slow, yet deliberate process of group destruction. Stemming from intentional state policies and decisions, individuals of a targeted group subjected to this cruel practice are deprived of basic human rights—which gradually, yet steadily leads to deaths en-masse within the group and shepherds the subsequent and complete annihilation of the collective group.
In the twenty-first century, it is indisputable that the right to life and the right to food and adequate medical care are inseparable. A wanton denial of adequate food, energy and medicine—enacted with the intent to discriminate against a targeted group—is a genocide by attrition that intends to destroy, in whole or in part, a national, ethnical, racial or religious group.
From 12 December 2022 to the present day, the only road connecting Artsakh (Nagorno-Karabagh) with Armenia and the outside world has been blocked by Azerbaijan. This blockade has disrupted and nearly-severed access to essential goods and services, including food, fuel and medication, among the population of Artsakh. This inhumane policy highlights the practice of effectively carrying out genocide by attrition against the 120,000 Armenians living in Artsakh, as this blockade has generated a dire humanitarian crisis that significantly affects every single Armenian in Artsakh. The low quantity of basic food and supplies (groceries, oil, sugar) that remain in Artsakh are provided to people in minimal portions. There is no formula available to feed babies. The blockade's impact on healthcare provision (through a lack of medication and the physical inhibition of medical care) has already resulted in one recorded death, triggering fears of further fatalities that may go unreported. Meanwhile, hundreds of families remain separated. This humanitarian crisis is further aggravated by Azerbaijan's occasional disruption of the natural gas supply to Artsakh, leaving houses, hospitals and schools without heating in lethal conditions.
Reflecting on policies inflicted by the Nazis' against Jews living in ghettos across Europe during the Second World War—policies that resulted in the deaths of over 700.000 Jews alone through hunger and illness from poor sanitary conditions and a lack of medical care—the autocratic regime of Azerbaijan now uses the same methods in an attempt to annihilate the Armenians of Artsakh. This policy derives from racism, xenophobia and Anti-Armenianism that has been nurtured by the ruling regimes of Azerbaijan for years.
To reflect on sentiments expressed above: a genocide is not an event—it is a process. Genocide by attrition is a vivid example of this perspective, and identification of policies and actions that facilitate this deprivation is crucial for detecting early-warning signs of genocides in-progress and preventing them from coming to pass. As the mere title of the Genocide Convention implies, the Convention has dual goals: prevention and punishment. All those 152 states who have signed the Genocide Convention are under a legal obligation to identify and prevent a genocide that is currently unfolding in Artsakh.
Edita Gzoyan, PhD
Deputy Scientific Director of the Armenian Genocide Museum-Institute
[1] I am thankful to my Law professor Vahan Bournazian for bringing me into this idea.
References
Helen Fein "Genocide by Attrition 1939-1993: The Warsaw Ghetto, Cambodia, and Sudan, Human Rights, Health, and Mass Death,"
Health and Human Rights
2, no. 2 (1997): 10-45.
Sheri P. Rosenberg, "Genocide Is a Process, Not an Event,"
Genocide Studies and Prevention
7, no. 1 (2012): 16–23.
Pauline Wakeham (2021): The Slow Violence of Settler Colonialism: Genocide, Attrition, and the Long Emergency of Invasion, Journal of Genocide Research, DOI: 10.1080/14623528.2021.1885571
Conflict in the Nuba Mountains From Genocide by Attrition to the Contemporary Crisis in Sudan
, edited by Samuel Totten and Amanda F. Grzy (Routledge, 2015).