10.02.2023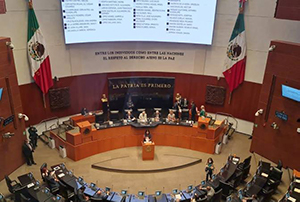 The Mexican Senate (Senate of the Republic) adopted a document on February 8 recognizing the Armenian Genocide, citing the need for protection of universal human rights.
At the same time, the Senate calls on the Secretariat of Foreign Affairs to support the official recognition of the Armenian Genocide by Mexico.
* On January 17, the delegation headed by Berenice Juarez Navarrete, the president of the Armenia-Mexico friendship group of the Chamber of Deputies of Mexico, visited the Armenian Genocide Memorial and Museum.
http://www.genocide-museum.am/eng/17.01.23.php
: