11.02.2015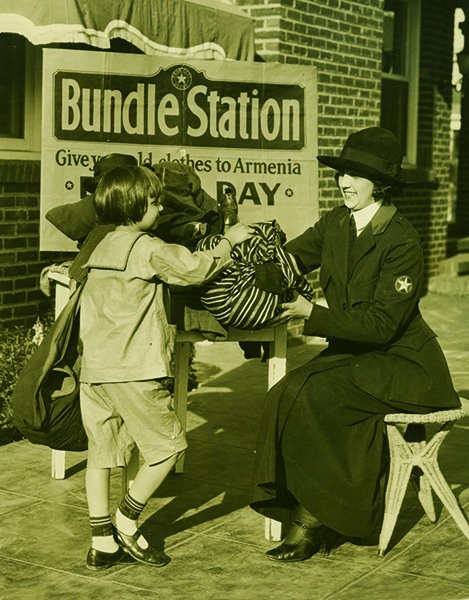 The photo is of the famous Hollywood actor Jackie Coogan giving cloths to the Armenian orphans at an aid station. He was welcomed by an employee of the American Relief, who was wearing the uniform of the organization.

Such aid stations were set up in many cities in the United States.
Jackie Coogan became popular as a child actor, especially after playing his role in a silent film "The Kid" with Charlie Chaplin.
Considering his reputation, the American Near East Relief Committee had involved the famous child-actor in relief activities to provide assistance to thousands orphans in the region.
With the direct participation of Jackie Coogan stations collecting "Nestle" dairy-products and clothing were set up throughout the United States, where thousands of American children were donating cloths and dairy-products. On a ship carrying humanitarian aid he arrived in Greece in 1925, where thousands of Armenian orphans were settled; and personally distributed the aid to the Greek and Armenian orphans. The Greek government granted State awards to Jackie Coogan, whereas the Armenian orphans invented a song for him and in honor of "Nestle".
"You have written a wonderful letter to me… I still remember how I used to tell about the orphans and starving children settled in Greece while traveling across America. I am glad you like «Nestle». As a grandfather I have to tell my grandchildren about the song you have dedicated to me, and about your offer to give them a chance to listen to that song. It is a very touching idea…".

A part from Jackie Coogan's letter to Verjine Yeghyaian - an Armenian orphan settled in Greece.
The source of photograph, Collection of University of California
From "100 Photographic Stories of the Armenian Genocide" book