11.04.2015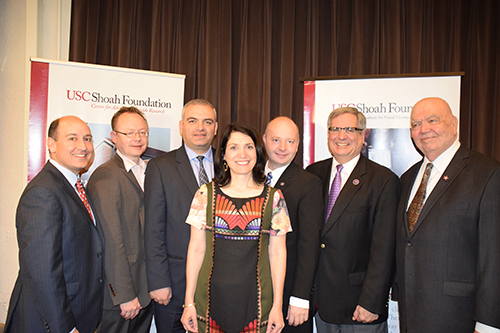 On April 10, Hayk Demoyan, director of the Armenian Genocide Museum & Institute and Stephen Smith, director of the USC Shoah Foundation, signed a memorandum of understanding that paves the way for future collaboration between the two organizations.
The first 60 interviews from USC Shoah Foundation's new Armenian Genocide Collection will be indexed and available to view in the Visual History Archive on April 24, 2015, the 100th anniversary of the genocide. These interviews are part of the Armenian Film Foundation's collection of 400 interviews of Armenian Genocide survivors and witnesses recorded by filmmaker J. Michael Hagopian beginning in the 1970s.
The memorandum of understanding between USC Shoah Foundation and AGMI is an agreement to make AGMI a full access site of the Visual History Archive, so visitors and scholars in Yerevan can view all 52,000 testimonies, including the Holocaust, Rwandan Genocide and Armenian Genocide collections, on-site at the museum. AGMI will also collaborate on research and educational projects with USC Shoah Foundation and explore the possibility of expanding the Armenian Genocide Collection with new or existing testimony.
Mr. Demoyan and Mr. Smith signed the memorandum of understanding at a reception Friday morning at USC's University Club. Smith said working with AGMI is vital to USC Shoah Foundation's mission, because the museum will provide the appropriate context for the Visual History Archive to live in Yerevan.
Demoyan said the occasion was very special to him and the museum. In the midst of a very busy month, opening new exhibitions and traveling around the world to commemorate the Armenian Genocide Centennial, it is important to celebrate the signing of the memorandum and begin a fruitful partnership with USC Shoah Foundation.
"This will not stay on the paper," Demoyan said. "Our signatures are triggering something important, triggering the process of research, preservation, study and cooperation."
"We are deeply dedicated to ensuring that those testimonies collected by J. Michael Hagopian over those many decades find their voice in the world. There is no better or more appropriate place to do that than in Yerevan itself," Smith said. "It's a place of memory, a place where history emanates from, and, through your leadership, ensures that research and education, which are the fundamentals of our institute too, really ground these testimonies in the world."