11.04.2015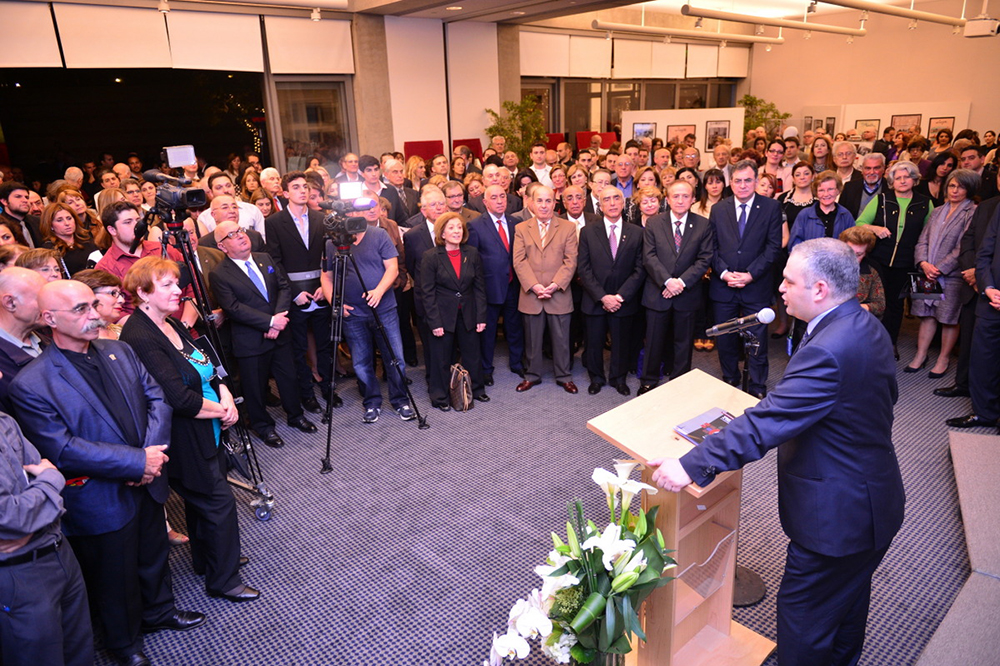 On April 8, the Temporary Exhibition
"Armenian Genocide: Front Page Coverage in the World Press"
was opened at the Skirball Cultural Center in Los Angeles. More than 500 guests attended the opening night reception of the highly anticipated three-day unique exhibition at the Skirball Cultural. Organized by the AGBU Asbeds, in collaboration with the Armenian Genocide Museum-Institute, the exhibit showcased sketches, illustrations and photographs of Front Page Coverage of the Armenian Genocide in the World Press. Government officials, clergy, community leaders, scholars and professors alike attended the event. Among the dignitaries in attendance was the Honorable Congressman Brad Sherman who commended the important undertaking of the AGBU Asbeds in bringing awareness of the Armenian Genocide of 1915 through the highly educational exhibition.
The evening's keynote speaker was Dr. Hayk Demoyan, Director of the Armenian Genocide Museum-Institute.
In his remarks, the Primate expressed his gratitude to the AGBU Asbeds under the leadership of Dr. Harout Yaghsezian for wonderfully organizing the exhibition. His Eminence also commended the outstanding professional work of Dr. Hayk Demoyan.
"Tonight's exhibition reveals the truth of crime against humanity and clearly displays the horror of the Armenian Genocide, the first genocide of the 20th century. This marvelous exhibition would not have been possible without Dr. Hayk Demoyan's relentless pursuit of justice. Dr. Demoyan has been a most influential figure in compiling the hundreds of sketches, illustrations, and photographs. He is a visionary and a brilliant and authentic scholar of Genocide Studies. His desire to reveal the horror of 1915 through the eyes of the world is unmatched,"
said Archbishop Derderian.