11.05.2023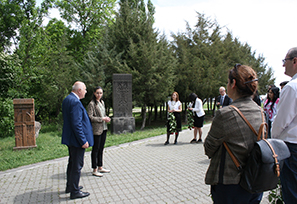 The students of V. Brusov State University and Bucharest University visited the Armenian Genocide Memorial on May 11, led by the Dean of the Faculty of Political Science of the University of Bucharest, Member of the European Parliament for 2009-2019 Christian Preda and the Rector of V. Brusov State University Davit Gyurjinyan. The delegation also included representatives of the International Organization of Francophonie.
The guests were welcomed by the AGMI Director Harutyun Marutyan, who presented the history of the creation of the Memorial. He then presented the story of the three khachkars placed at Tsitsernakaberd in memory of the Armenians who died in the massacres organized by the Azerbaijani government in the cities of Sumgait, Kirovabad (Gandzak) and Baku at the end of the 20th century, as well as the stories of the five freedom fighters buried in front of Hushapat during the Artsakh struggle of survival—these components of the Memorial emphasize the connection between the Armenian Genocide and contemporary acts of persecution and violence against Armenians.
They put flowers at the Eternal Fire and observed a minute's silence in memory of the innocent martyrs of the Armenian Genocide.
AGMI Director Harutyun Marutyan, accompanied the guests to Hushapat, in the back of which, in special niches, small jars full of soil taken from the graves of a number of foreign public figures, politicians, intellectuals and missionaries who raised their voice of protest against the mass massacres of Armenians and genocide carried out by the Turkish government in the late 19th and early 20th centuries are summarized.
The delegation then toured the Armenian Genocide Museum. Having been accompanied by AGMI senior guide Hasmik Martirosyan, they became acquainted with the permanent and temporary exhibitions housed at the Museum. Following the delegation's tour, Christian Preda left a note in the Memory Book for Honourable Guests.
Expressing his thanks for the visit, the Director of the Armenian Genocide, Harutyun Marutyan, gifted books about the Armenian Genocide to the Dean of the Faculty of Political Science of the University of Bucharest.
The members of the delegation visited the Memory Park, where Mr. Cristian Preda watered the fir trees planted by the former presidents of Romania, Ion Iliescu in 2001 and Traian Băsescu in 2006.