12.02.2014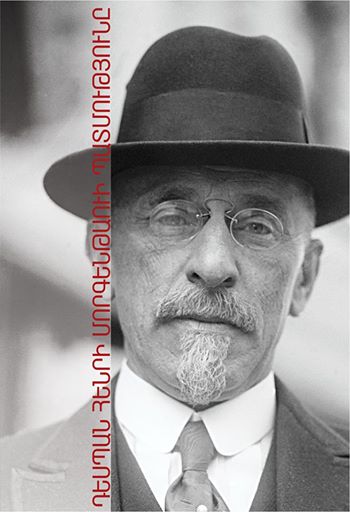 The Armenian Genocide Museum-Institute for the first time presents to the Armenian reader the entire memories of U.S. Ambassador to the Ottoman Empire (1913-1916) Henry Morgenthau, in Eastern Armenian edition.
These memoirs have the significant of a unique source for the history of the Armenian Genocide, particularly, to reveal the folds of the crime, which was determined and planned by the Turkish Government, and to identify and explore the mental of the Turkish criminal regime of that time. The memoir of U.S. Ambassador is a monumental work indeed, where the represented facts and testimonies undeniably prove the fact of planned and committed Genocide.
Morgenthau gives deep analysis about the situation reinforcing it by information from official sources. Besides, he describes the process of decision-making, the intrigues of Young Turks government, as well as introduces the reader to the German propaganda policy, which made Turkey involved in the World War I.
The story of Ambassador Henry Morgenthau, which is presented in accuracy of an eyewitness and an analyst, is an important primary source against the denying policy of Turkish modern historiography.
The book is intended for historians, orientalists, genocide scholars, historians, as well as for a wide circle of readers, who are interested in this topic. The work translated by Lilit Toutkhalyan, from the English original, which was published in 1918.
Henry Morgenthau (1856-1946) is an American diplomat, graduated as a lawyer. He was born in 1856 in Mannheim, Germany. In 1913-1916 was U.S. Ambassador to the Ottoman Empire. After the beginning of the First World War, he also represented the interests of Great Britain, France, Russia, Italy, and Belgium in that country. Morgenthau was also the vice president of the "Near East Relief" organization.
When it was known from numerous reports of American consuls, that the real purpose of the deportation of Western Armenians was the complete extermination of the Armenians, Morgenthau met Young Turk leaders Enver and Talat, trying to prevent the expulsion and massacre of the Armenians, but in vain. In his memoirs, the Ambassador devoted separate chapters to the tragedy of Western Armenians, which are based on the reports of American Consul in Aleppo.
Morgenthau was confident that the Young Turk government had earlier planned the extermination of the Armenians in Turkey. He rejected the Turkish military necessity hypothesis about deportation of the Armenians and proved that the Young Turk leaders aimed the complete destruction of the Armenian nation. He condemned the indifferent attitude of the European powers towards the persecution of the Armenian population in the Ottoman Empire, which, according to him, in its turn, encouraged the Turkish murderers.