12.07.2023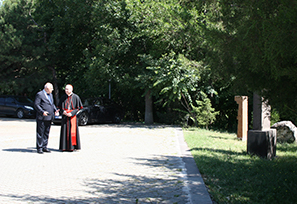 The delegation, led by Cardinal Pietro Parolin, Vatican Secretary of State, visited the Armenian Genocide Memorial accompanied by Paruyr Hovhannisyan, RA Deputy Foreign Minister and Karen Nazaryan, RA Ambassador Extraordinary and Plenipotentiary to the Holy See, on July 12.
The guests were welcomed by Harutyun Marutyan, AGMI Director, who described the history of the creation of the Memorial. He then told the story of the three khachkars placed at Tsitsernakaberd in memory of the Armenians who died in the massacres organised by the Azerbaijani government in the cities of Sumgait, Kirovabad (Gandzak) and Baku at the end of the 20th century, as well as the biographies of the five freedom fighters buried in front of Memory Wall during the Artsakh struggle of survival, emphasising the connection between the Armenian Genocide and contemporary acts of persecution and violence against Armenians.
Cardinal Pietro Parolin laid a wreath at the memorial complex, after which the guests laid flowers at the Eternal Fire and observed a minute's silence in memory of the innocent martyrs of the Armenian Genocide.
The AGMI Director accompanied the guests to the Memory Wall, which contains, in special niches in its reverse side, small containers of soil taken from the graves of a number of 19th and 20th century foreign public figures, politicians, intellectuals and missionaries who raised voices of protest against the massacres and deportations of Armenians carried out by the Turkish government.
The delegation then toured the Armenian Genocide Museum, accompanied by Lusine Abrahamyan and became acquainted with its permanent and temporary exhibitions. On the occasion of this visit by Cardinal Pietro Parolin, the Holy See's Secretary of State, a copy of Pope Benedict XV's letter, addressed to Sultan Mehmed V of the Ottoman Empire, dated September 10, 1915, was displayed for him to see, among other materials from the AGMI's scientific collections. The Pope, in his letter, raised his voice, protesting against the widespread violence and massacres against Armenians and calling for an immediate stop to the mass crimes being committed. After touring the museum, Cardinal Pietro Parolin also signed the Visitors' Book.
Expressing his gratitude for their visit, Harutyun Marutyan, Director of the Armenian Genocide Museum-Institute presented the cardinal with books about the Armenian Genocide. The Cardinal responded by presenting the Armenian Genocide Museum-Institute with a commemorative medal.
The members of the Holy See's delegation also visited the Memory Park, where Cardinal Pietro Parolin watered the fir trees planted by Pope John Paul II in 2001 and Pope Francis in 2016.