13.01.2023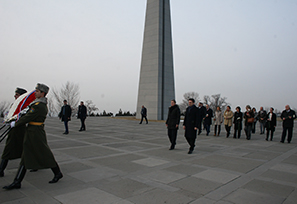 At the invitation of the Speaker of the National Assembly of the Republic of Armenia (NA RA), the delegation led by the Speaker of the National Assembly of the Republic of France Yael Broun-Pivet arrived in Armenia and visited the Armenian Genocide Memorial on 13 January, accompanied by the Speaker of the RA NA Alen Simonyan, RA NA Deputy Speaker Ruben Rubinyan, RA NA Armenia-France Friendship Group Head Vladimir Vardanyan, RA Extraordinary and Plenipotentiary in the Republic of France and accompanied by Ambassador Plenipotentiary Hasmik Tolmajyan and Ambassador Extraordinary and Plenipotentiary of France to the Republic of Armenia Anne Luyot.
The guests were welcomed by Harutyun Marutyan, AGMI Director who narrated the history of the creation of the Memorial. He also presented them with the history of the three khachkars placed in the Tsitsernakaberd area in memory of the Armenians who died in the massacres in the cities of Sumgait, Kirovabad (Gandzak) and Baku in the last century organised by the Azerbaijani government. He also related the stories of the five freedom fighters buried in front of the Memory Wall (Hushapat) who were killed during the Artsakh war, emphasizing the connection between what happened and the Armenian Genocide.
Madam Yael Broun-Pivet laid a wreath at the genocide monument and the accompanying guests put flowers at the Eternal Fire and observed a minute's silence in memory of the innocent martyrs of the Armenian Genocide.
They also toured the Armenian Genocide Museum accompanied by AGMI senior guide Hasmik Martirosyan, becoming acquainted with the permanent and temporary exhibitions there, after which Madam Yael Broun-Pivet made a note in the Memory Book for Honourable Guests. AGMI Director Harutyun Marutyan, discussed with Mrs. Yael Brown-Pivet the possibility of organizing a temporary exhibition of the Armenian Genocide Museum in one of the French museums.
Expressing his gratitude for the visit, AGMI Director Harutyun Marutyan, presented to the Speaker of the National Assembly of France some of AGMI's publications, including the French edition of the book "Ravished Armenia: The Story of Aurora Mardiganian", published in 2020 with the support of the head of the Auvergne-Rhone-Alpes region of France.