13.02.2021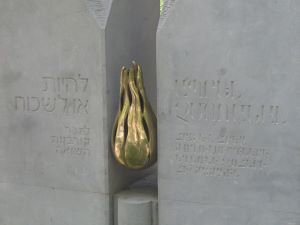 There is a unique monument at the intersection of Teryan and Moskovyan streets at Yerevan's Ring Park. It is dedicated to the memory of the victims of both Armenian and Jewish genocides.
There are hundreds of monuments dedicated to the Armenian Genocide or the Jewish Holocaust in different parts of the world, but this monument, created by Ruben Arucharyan and placed in Yerevan on 27 October 2006, is unique in its harmony. It symbolizes, in fact, not only the great crime of genocide, but also the connection between the memories of both the Armenians and the Jews and the similarity and connection of their fates.
Vandals daubed red paint on this monument on 12 February, leaving inscriptions detailing the names of Israeli-made weapons - Lora, Elbit, Harop, Sandcat, Hermes and Orbiter - that were used by Azerbaijan during the Artsakh war of 2020.
The policy and actions of the state of Israel during the war were totally reprehensible of course. Moreover, they even fell within the scope of Paragraph E of Article 3 of the UN Convention on the Prevention and Punishment of the Crime of Genocide, which also considers complicity in the commission of genocide to be punishable under it. Moreover, Israel not only supplied Azerbaijan with these weapons, but also did not stop their flow during the war, with many examples proving that they were used to exterminate the Armenian civilian population in Artsakh.
The Holocaust monument, however, has nothing to do with the state of Israel today. It symbolizes the suffering of the Jewish people, a people with whom we have a millennial relationship. The Armenian Quarter in Jerusalem, the assistance of Jewish diplomats (particularly Henry Morgenthau, US Ambassador to the Ottoman Empire), the help of public figures and responses made during and after the years of the Armenian Genocide, the salvation of Jews by Armenians during the Holocaust (the names of 25 Armenians who saved Jews are included in the list of The Righteous in the Yad Vashem Memorial in Jerusalem), as well as joint projects conducted by Armenian and Jewish scholars, businessmen, non-governmental organizations and activities are all evidence of that.
During the Artsakh war, Jewish scholars called on the state of Israel to suspend military aid to Azerbaijan. Many Jewish intellectuals criticized their own government.
Jews have lived in Armenia for centuries; they have been law-abiding citizens of Armenia, sharing both the difficulties and joys of our country and have never been subjected to national persecution. This is for a very simple reason: unlike many countries in the world, there is no anti-Semitism in Armenia. Even if there were unique manifestations of ill-treatment of some Jews, those acts received a harsh response from the whole of Armenian society and were rejected and condemned by all.
What happened recently must be severely punished. It is unacceptable to confuse the memory of the Jewish children killed in Auschwitz with the policies of the Israeli government.
Suren Manukyan
Head of the Department of Comparative Genocide Studies
Armenian Genocide Museum-Institute