13.06.2023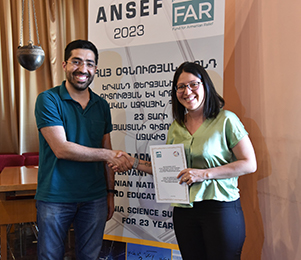 The project proposed by Naira Sahakyan, senior researcher in the Department of Armenian Repression in Artsakh, Nakhichevan and Azerbaijan's Armenian regions of the Armenian Genocide Museum-Institute Foundation, was recognised as the winner of the academic research competition held by the Armenian National Science and Education Fund. This project in the field of humanities is implemented in cooperation with the support programme for young scientists of the Science Committee of the RA Ministry of Science, Education, Sports and Culture.
Naira Sahakyan (together with Turkologist Anahit Kartashyan) will study the changes to the narrative of the Artsakh war seen in the speeches made by the leaders of Armenia, Azerbaijan and Turkey in 1991-2002.
We congratulate Naira Sahakyan, wishing her success in her research and achievements.