13.11.2019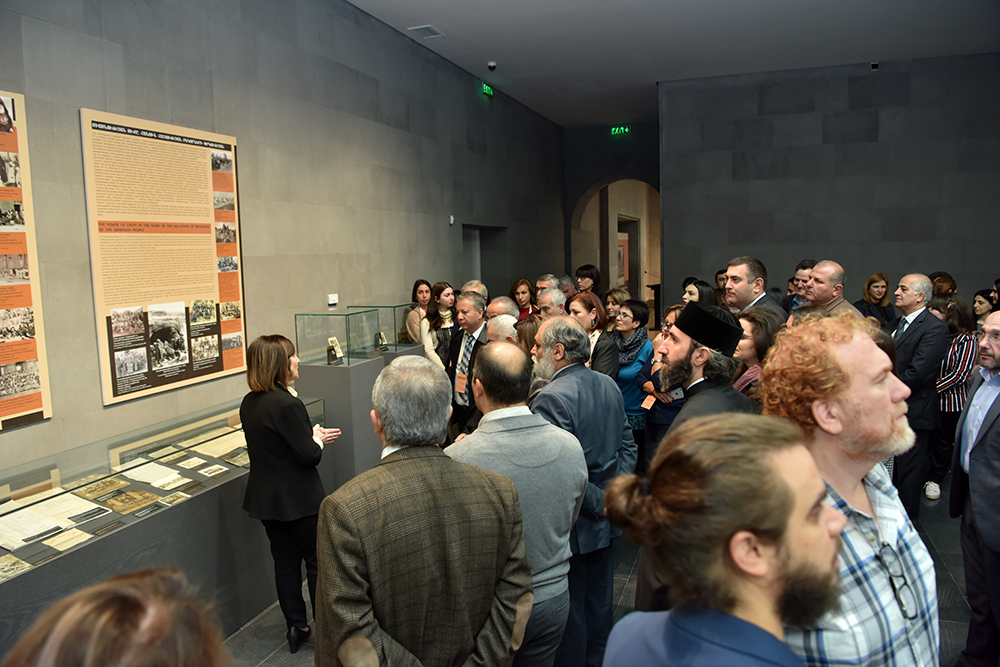 On 8 November, within the framework of the international conference "The Rescue of Armenians in the Middle East, 1915-1923" organized by the AGMI, the opening of the temporary exhibition "The Rescue of Armenians in the Middle East, 1915-1923: From National Unity to Revival" also took place.
During the event a welcome speech was delivered by Dr. Harutyun Marutyan, Director of Armenian Genocide Museum Institute Foundation, and Dr. Narine Margaryan, AGMI scientific secretary and coordinator of the conference and the exhibition.
In his speech AGMI Director highlighted the importance of bringing up the stories of Armenians rescued by the Armenians, emphasizing the Armenian factor, and the necessity to talk about it proudly:
"We have always emphasized the participation of foreigners, their undertakings, which is very important and for which we are grateful, but now it is time to assess and appreciate the role of Armenians in saving Armenians".
The exhibition is bilingual - Armenian and English. The exhibition, consisting of ten main and two statistic-containing extensive headlines and unique archival materials, will provide information known to narrow scientific circles.
A part of the documentary film "Desert Crows" about the salvation of Armenians in the Near East by Levon Yotneghbayrian's grandson Levon Parian is also being displayed in the exhibition hall. The exhibition is devoted exclusively to the Armenian contribution to the rescue of genocide survivors.
Separate sections clarify the roles of Armenian religious organizations.
Activities carried out by the AGBU, Armenian National Union, Armenian Orphan Relief of Egypt, Armenian Organizations in Mesopotamia, Armenian Red Cross, as well as orphan care initiatives made the governments of the Republic of Armenia and the Armenian SSR are presented.
A large section is dedicated to individuals who were engaged in orphan seeking activities in the Mesopotamian deserts and the territory of Western Armenia by providing women and orphans with shelters.
The exhibition shows unique archival materials such as documents, photos and exhibits mainly from the Armenian Genocide Museum-Institute, as well as from the National Archives of Armenia, Yerevan History Museum and AGMI staff member Mihran Minasian's personal archive. Statistics concerning the number of orphans will also be presented. Unique orphans' memories and photographs are displayed, as well as items from deportation routes, objects from the orphanages and embroideries made by the orphans.
"The purpose of the exhibition is to highlight the important role played by the Armenian people during the Genocide years. This salvation work was realized thanks to the unity of the Armenian people and by it being guided by a single idea: the restoration of national identity which laid the foundation for a national revival",
mentioned coordinator of the exhibition PhD Narine Margaryan.
The exhibition is sponsored by the Armenian Missionary Association of America. The exhibition will be open till April 2020.