16.03.2021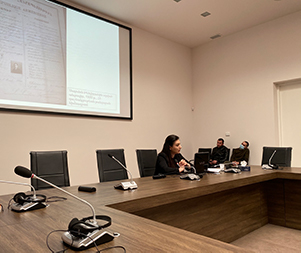 A lecture titled "Special Operation: to kill Talaat" took place in the conference hall of the Armenian Genocide Museum-Institute on March 16, presented by AGMI chief registrar and researcher Gohar Khanumyan. It was held on the 100th anniversary of the assassination of Talaat Pasha, one of the main organizers of the Armenian genocide, by Soghomon Tehliryan.
The speaker presented the highly secret decision taken, at the 9th General Assembly of the ARF Dashnaktsutyun in Yerevan in the autumn 1919, to execute the organizers and perpetrators of the Armenian Genocide. The operation was called the "Special Operation," better known as "Nemesis" and the ARF entrusted it to a special or responsible body set up for the purpose.
The speaker said that, after the decision was made detailed preparation for punitive actions against the organizers of the Armenian Genocide began. ARF figures Armen Garo (Garegin Pastrmajyan) and Shahan Natali (Hakob Ter-Hakobyan) were directly responsible for the planning and implementation of the program, which included young Armenians with rich military experience who had survived the Armenian Genocide. These were Soghomon Tehliryan, Arshavir Shirakyan, Aram Yerkanyan, Misak Torlakyan and others. The editorial offices of the newspapers "Hayrenik" in Boston and "Ch'akatamart" in Constantinople were used as the "Nemesis" operation's underground organizational centers. The group led by Hrach Papazyan was tasked with obtaining information on the whereabouts of the Young Turks criminal leaders.
As the special operation was top secret, its organizers, members and any information related to it were not divulged for many years. The speaker touched upon the literature that had been published on operation "Nemesis," views that had been circulated and a number of controversial issues concerning it.
The lecture was also attended by relatives of another Armenian avenger, Artashes Gevorgyan, who donated family photos, a family tree and other items belonging to their family to the Armenian Genocide Museum-Institute. The speaker also presented Tehliryan's trial, which was widely covered in the press at the time.
At the end of the lecture, the speaker took questions from the participants.