16.04.2021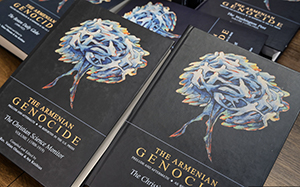 On April 16, 2021, the presentation of the sixth and seventh volumes of the 10-volume series of titled "ARMENIAN GENOCIDE: PRELUDE AND AFTERMATH. AS REPORTED IN THE U.S. PRESS. THE WASHINGTON POST (1890-1922)") compiled by Father Vahan Ohanian, a member of the Mekhitarist Congregation, and Australian-Armenian researcher Ara Ketibian, took place in the conference hall of the Armenian Genocide Museum-Institute Foundation.
The first five volumes of the multi-volume book cover the leading American dailies (The New York Times, Christian Science Monitor and Boston Daily Globe) with a total of 6696 articles.
In the sixth and seventh volumes the authors present a total of 2867 news reports published in the "Washington Post" between 1890 and 1922. The publications in these volumes contain valuable information and archival material about the Armenian Genocide.
Harutyun Marutyan, the director of AGMI, greeted the guests with an opening speech, stressing the importance of the series for Armenian Studies and the study of the Armenian Genocide.
Ara Ketibian, the co-editor of the volumes, mentioned that in these volumes, extensive amount of material becomes available for the reader in chronological order for the first time. The coverage includes news, eyewitness testimonies, editorials and photos.
Ruben Adalian, the director of the Armenian National Institute, who is the author of the preface of the volumes, greeted the guests with a video message, emphasizing the importance of this work.
Lusine Abrahamyan, the Deputy Director of AGMI and Hayk Mkrtchyan, a PhD of AGMI presented the first and second parts of the work in chronological order, analyzing the most interesting articles.
At the end of the presentation, Ara Ketibian answered a number of questions raised by some of the participants.