16.09.2023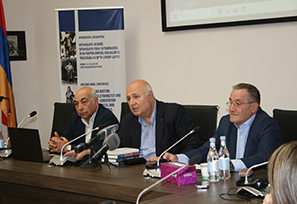 The event titled "September 1918: Massacres of Baku Armenians - 105" was held in the "Armenian Genocide Museum-Institute" Foundation conference hall.
AGMI Director Harutyun Marutyan welcomed the audience with a speech. He introduced the speakers of the day then, referring to the topic, drew parallels with the genocidal policy being implemented by Azerbaijan in Artsakh today.
Professor Vahan Melikyan was the first speaker, presenting "The first Pan-Turkism incursion attempt in Baku in March 1918." He referred to the massacres in Baku in March and September of that year and the role played by the Young Turks in them.
The second speaker was Professor Ashot Hayruni, who presented a lecture titled "The massacre of the Baku Armenians in 1918 according to German primary sources, examined in the light of previous events."
The speaker described the active participation of Enver Pasha's half-brother Nuri Pasha in the Baku Armenian massacres, as well as providing valuable information preserved in German sources about them.