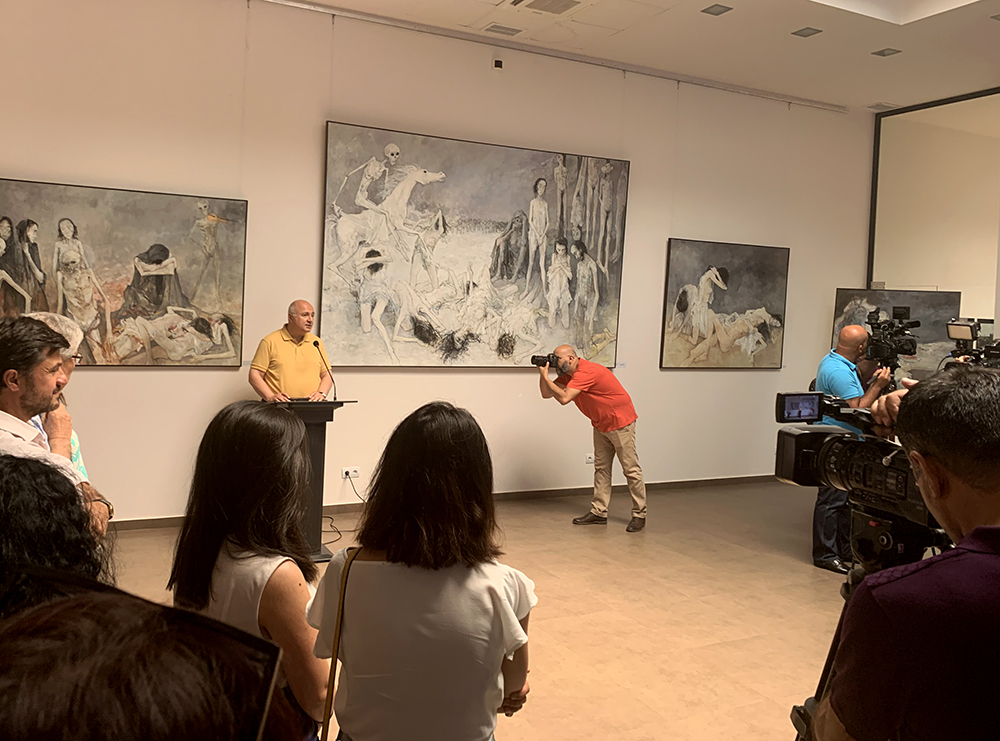 On 18 June, the solemn opening of the Armenian Genocide Museum's gallery with its permanent exhibition "Jansem: A Painter of Medz Yeghern" took place at the Armenian Genocide Museum-Institute (administrative section, the hall next to the conference room).
The welcome and opening speech was delivered by the Director of "Armenian Genocide Museum-Institute" Foundation Harutyun Marutyan:
"Organizing the exhibition of Jansem's works was principal for the Museum-Institute. We are glad that Ararat Museum has become a partner-supporter in this undertaking. Within the framework of inter-museum cooperation, the gallery with Jansem's permanent exhibition will open its doors to the visitors".
Head of AGMI Museum Exhibition and Services Department Seda Parsamyan presented details about the exhibition and Jansem's creative life; she concluded her words with the thought of French theorist Christian Blanc:
Lost souls have found shelter in the poet-artist. He handed to the canvas views the world failed to see. Jansem's paintings are the memory of all Armenian people".
During the event, culturist genocide expert PhD Hasmik Grigoryan presented scientific research on Jansem's paintings and the culture of violence reflected within them.
The exhibition includes 20 works from the collection of "Yeghern" by a famous Armenian-French artist Jansem (Hovannes Semerjian). Jansem created his
Yeghern
collection consisting of 34 canvases in a respectable age from 1998-2001, which are as intensely expressive as other horrific realities of the Armenian Genocide. He reproduced the sad stories that he had heard since childhood. In 2002, during one of his visits to Armenia the renowned artist donated his
Yeghern
collection to the Armenian Genocide Museum-Institute by the decision of the Armenian Humanitarian Relief Central Committee (June 21, 2002).
The gallery will be open for viewing from Tuesday to Saturday, working hours: 1000-1630. The entrance is with tickets, at a price of 1000 AMD. Tickets can be purchased at the bookstore of the Museum.