18.07.2023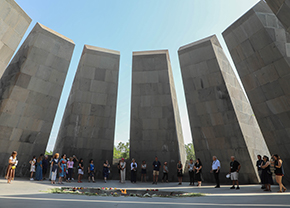 The American "Genocide Education Project" (GenEd) organisation, in cooperation with the Armenian Genocide Museum-Institute, organised a training programme for 15 American teachers on July 9-14, 2023. It took place for the second time taking the suggestions and wishes of the 2022 participants into account.
The training took place, in the form of lectures and practical training, at the Armenian Genocide Museum-Institute. The topic of the Armenian Genocide was presented to the participants from historical, legal and socio-psychological perspectives, as well as showing the state impunity it enjoys and the Turkish denial and long-term impact of that crime on the current political and economic situation around the Republic of Armenia.
Separate lessons were devoted to the Artsakh issue and aggression by the Republic of Azerbaijan against the Republics of Nagorno-Karabakh and Armenia. The programme included a special cultural component that contributed to increasing general knowledge among American teachers of Armenians, Armenian history and Armenia itself and how to transfer this knowledge to future US citizens.
The Genocide Education Project draws participants from different US states, so with last year, the training programme already included teachers from 28 US states (for details about the participants, see:
https://genocideeducation.org/welcoming-the-2023-gened-teacher-fellows/
. This allowed for the creation of a network of educators that, under the supervision and advice of the Genocide Education Project, spreads accurate knowledge about the Armenian Genocide, making the topic part of world history.
The participants of the 2023 programme became acquainted with the teaching methods used for the Armenian Genocide topic, its emphasis, the Armenian Genocide Museum-Institute's archival materials and the thematic emphasis of the museum's main exhibition. The participants are obliged to train twenty other teachers in their states after the end of the programme and take part in state conferences, presenting the history of the Armenian Genocide, as well as preparing a lesson plan on the subject.
At the end of the teachers' training programme Harutyun Marutyan, the director of the Armenian Genocide Museum Institute, awarded Roxan Makasjian, the executive director of the Genocide Education Project with the AGMI's "Henry Morgenthau" memorial medal for her contributions in raising awareness of the Armenian Genocide and the teaching of the subject.
See the reaction of the 2022 participants regarding the programme at:
https://www.youtube.com/watch?v=vAM9Y3QsMJs
.