18.09.2015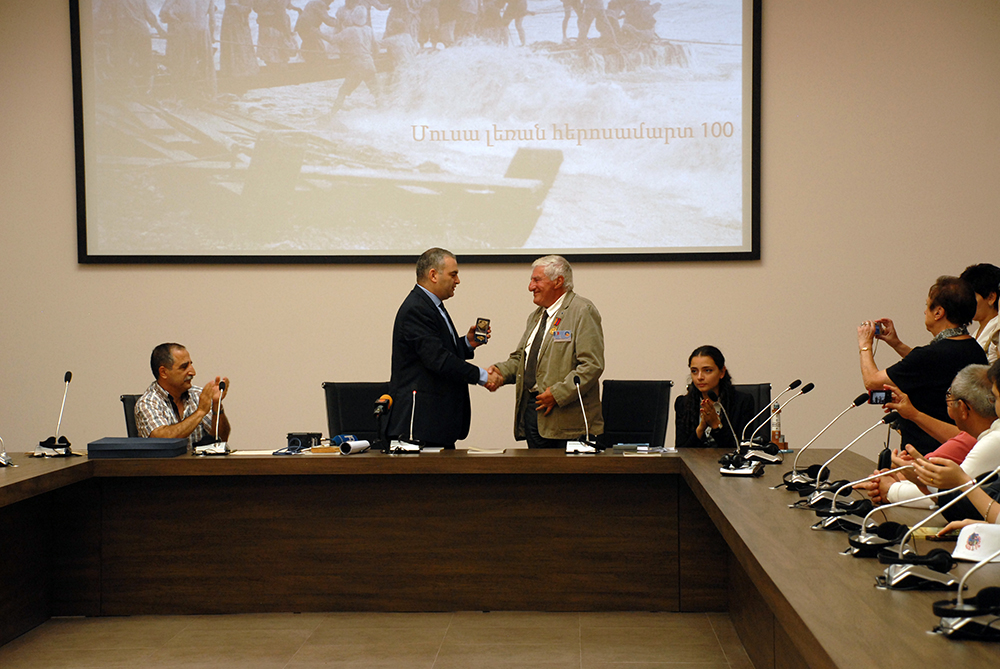 Today, at Armenian Genocide Museum-Institute the presentation of the book "The French Navy's Assistance to Armenians" by George Gevorgian took place, and a new temporary exhibition dedicated to the daily life of Musa Dagh Armenians was opened.
Director of Armenian Genocide Museum-Institute Hayk Demoyan awarded the author by "Franz Werfel" gold medal. Unique archival photographs and documents are found in this book, which are being published in Armenian for the first time.
It is planned to open a museum in Aynchar dedicated to the heroic battle of Musa Dagh. Hayk Demoyan donated two October 1915 numbers of French periodicals "I'llustrasion" and "Mirror" to the future museum, where photos of Musa Dagh evacuation were published a month before the incidents.
Hayk Demoyan also presented the memories of French Vice-Admiral Louie Dartizh de Fournet; published in 1914-1916, where he had referred to the self-defense battle of Musa Dagh in two pages.French naval commander wrote: "Musa Dagh Armenians have wrapped their babies in towels and passed from hand to hand to French sailors. The babies were not aware that they were reborn in water like Moses",