18.12.2015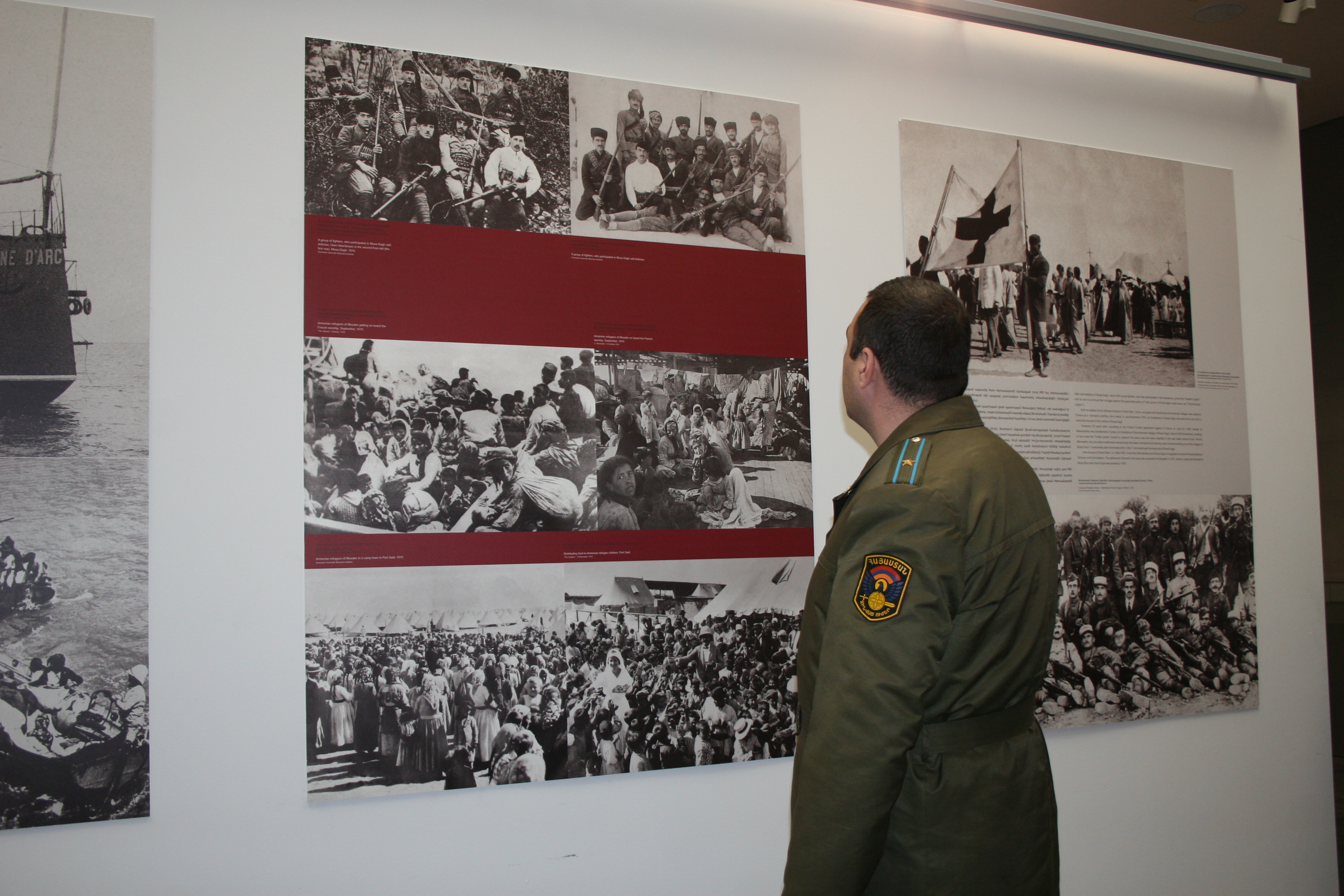 On 18 December, the last temporary exhibition of this year titled "Struggling for life and dignity: self-defense battles in the years of Armenian Genocide" opened at Armenian Genocide Museum-Institute with the presentation of the catalog with the same name.
The bilingual (Armenian, English) exhibition and catalog consisted of sixteen headlines present the heroic episodes of the Armenian Genocide; numerous impressive self - defense battles, as well as the victories proclaiming the birth of the first Armenian Republic. It is important to focus on these glorious pages of Armenian history and present the grief of millions of innocent martyrs with the endurance and struggle decisiveness of our nation.
AGMI Director Hayk Demoyan mentioned: "We sum up the 100th anniversary of Armenian Genocide with such emphasis: self-defense. There is wrong opinion thinking that people had gone obediently to death. It is not true; it is not a professional approach. Genocides are always accompanied with resistance; it is the law of nature. All the Armenians: men, women, elders in towns and villages input their contribution to salvation. It is not only a struggle of salvation, but also a struggle of dignity". The event is dedicated to the 150th anniversary of Zoravar Andranik. Many newfound photos and photos which are put in circulation for the first time are presented in this exhibition, as well as exceptional items related to Antranik Zoravar.
"Self-defense battles were led in almost all settlements. Of course we know about the great episodes of those battles; Musa Ler, Van. Shapin Garahisar, Urfa, etc. The main goal of this exhibition is to show that the battles were not only took place in the mentioned places. This is a very important fact which proofs that those nations who are struggling for their existence by fighting can survive. And this is a future-oriented message for our nation. It is not a coincidence that the event is dedicated to the 100tgh anniversary of Andranik Zoravar. Andranik is a national figure who contains the whole struggle of our nation", added the deputy director of AGMI.
Military Academy cadets were the special guests of the event.
The project was implemented within the framework of the grant provided by the Administration of the President of the Republic of Armenia.
During the event AGMI Director Hayk Demoyan awarded Felix Pirumyan with the gold medal of the museum and Artashes Matevosyan with the medal of Nansen as a gratitude for the works carried out by them during the organization of the new exhibition of the museum.