19.01.2023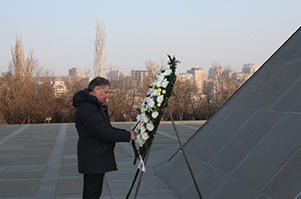 On January 19, the delegation led by the Secretary General of the Foreign Ministry of Cyprus Cornelius Cornelius, who arrived in Armenia to participate in the Armenian-Cypriot political consultations, visited the Armenian Genocide Memorial.
The guests were welcomed by Lusine Abrahamyan, the AGMI Deputy Director for Museum Affairs, who presented the history of the creation of the Memorial. She also presented the history of the three khachkars placed in the Tsitsernakaberd area in memory of the Armenians who died in the massacres organised by the Azerbaijani government in the cities of Sumgait, Kirovabad (Gandzak), and Baku in the last century, emphasizing the connection between what happened and the Armenian Genocide.
Mr. Cornelius Cornelius laid a wreath at the genocide monument and the accompanying guests put flowers at the Eternal Fire and observed a minute's silence in memory of the innocent martyrs of the Armenian Genocide.
They also toured the Armenian Genocide Museum and got acquainted with the permanent and temporary exhibitions there, after which Mr. Cornelius Cornelius made a note in the Memory Book for Honourable Guests. At the end of the visit the guests visited the Memory Park, where high-ranking officials of Cyprus also planted fir trees in different years.