News
ORPHANS' FATHER HOVHANNES TOUMANYAN
Today marks the 154 anniversary of the great Armenian poet– Hovhannes Tumanyan
19.02.2023
The life of the poet concerned with the fate of his nation was also paralleled with active public-political activities. Hovhannes Toumanyan's orphan care activities during and after the Armenian Genocide deserves a special attention.
At the end of July 1915, news arrived about the flow of thousands of refugees to Igdir and Echmiadzin. In July 30 Toumanyan arrived in Echmiadzin with his daughter Nvard, where masses of Armenians, survivors of the Armenian Genocide were gathered. Toumanyan was immediately engaged in a work to provide shelter to the migrants, take care of orphans and provide them with food. Under his direct leadership fundraising was organized, a hospital with 500 beds and an orphanage for 3000 orphans was opened.
In parallel to orphan care works, Hovh. Toumanyan was recruiting orphans from suburbs of Echmiadzin accommodating them in orphanages. He was personally making lists of sick and healthy children providing special treatment to sick Armenian orphans.
In his memoirs, Toumanyan writes:
"Some children have made it a habit to catch my hinges after the meal (though they are dressed, sheltered and fed) telling me, father I am an orphan, I have neither mother nor father". "…when they were told that new cloths would be sewed for them, they used to raise their heads from here and there saying: - Father, sew a red hat for me."
In spring of 1915 Toumanyan was engaged in creating patriotic games for the orphans. His aim was to make the children know and love their homeland
"not with blind love of a patriot, but with a love of a conscious, intelligent person, so that the love be honest, healthy and meaningful."
Seda Parsamyan
Ռesponsible for organising AGMI exhibitions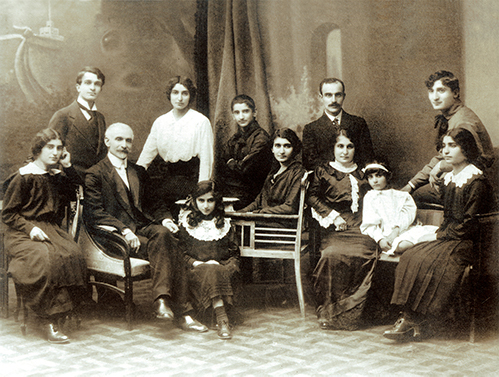 Family of Hovhannes Toumanyan, Tiflis, 1915
From the Left (sitting) Arpik, Hovhannes, Seda, Ashkhen, Olga (wife), Tamar, Anoush,
(standing) Artavazd, Nouvard, Areg, Mushegh, Hamlik
Hovhannes Toumanyan Museum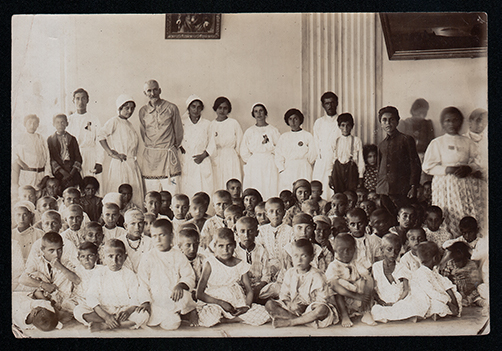 Hovhannes Toumanyan with Sisters of Charity and Orphans: to the left of Toumanyan is Nvard Toumanyan, Etchmiadzin, August, 1915
Hovhannes Toumanyan Museum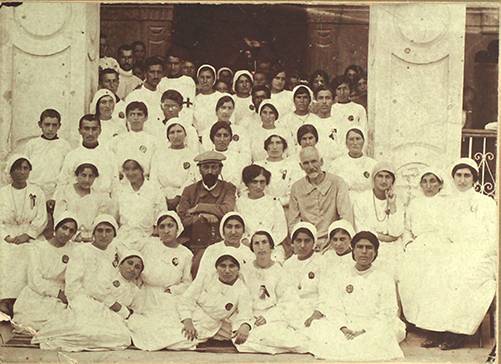 Hovhannes Toumanyan and Hamo Ohanjanyan with the Staff of Etchmiadzin Orphanage, 1915

Hovhannes Toumanyan Museum


DONATE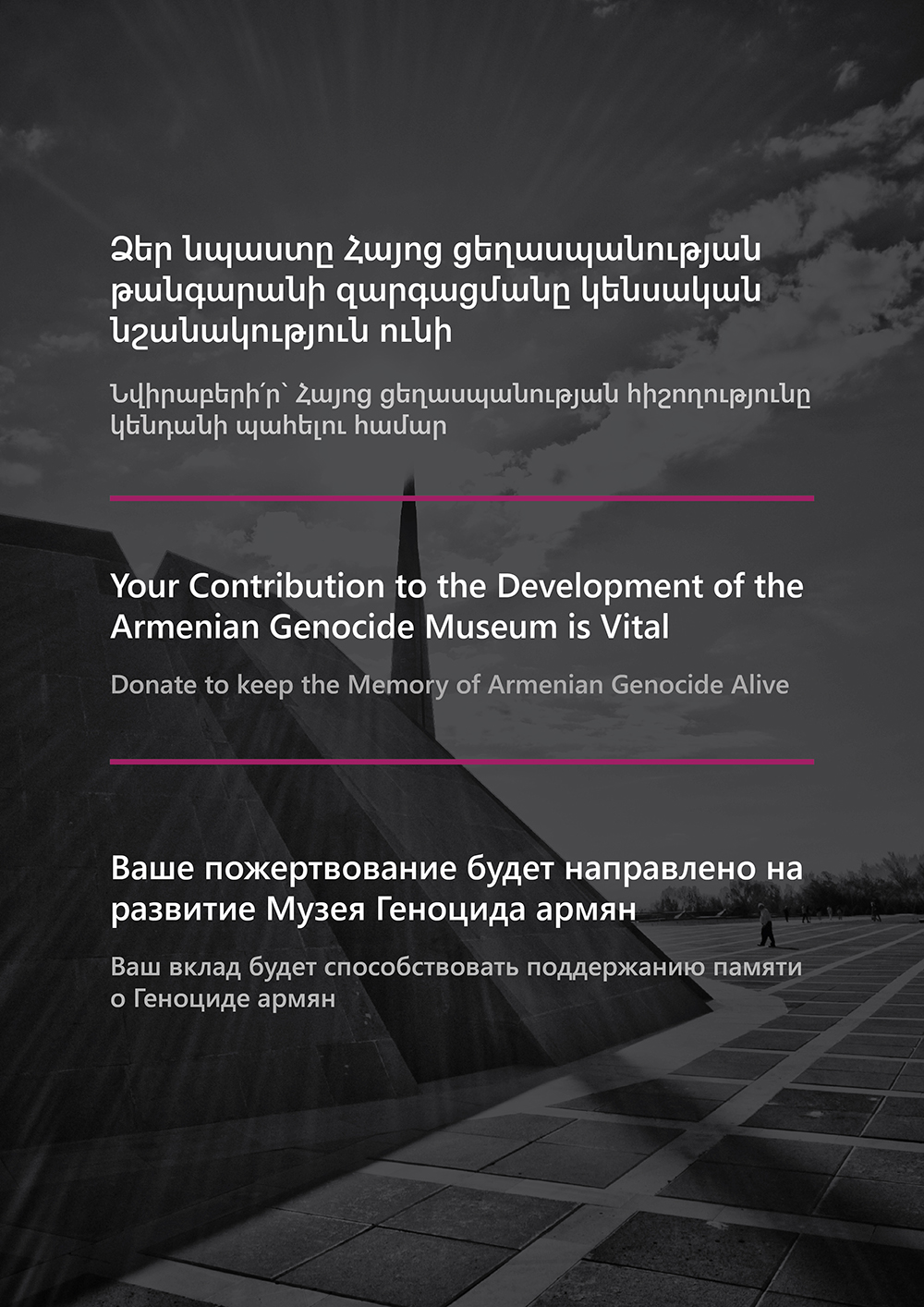 TO KEEP THE MEMORY OF THE ARMENIAN GENOCIDE ALIVE

Special Projects Implemented by the Armenian Genocide Museum-Institute Foundation
COPYRIGHT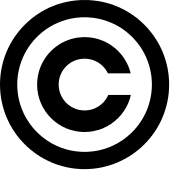 AGMI BOOKSTORE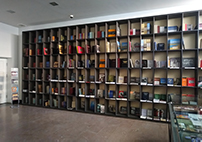 The Armenian Genocide Museum-Institute's "World of Books"
TESTIMONIAL OF ARMENIAN GENOCIDE SURVIVORS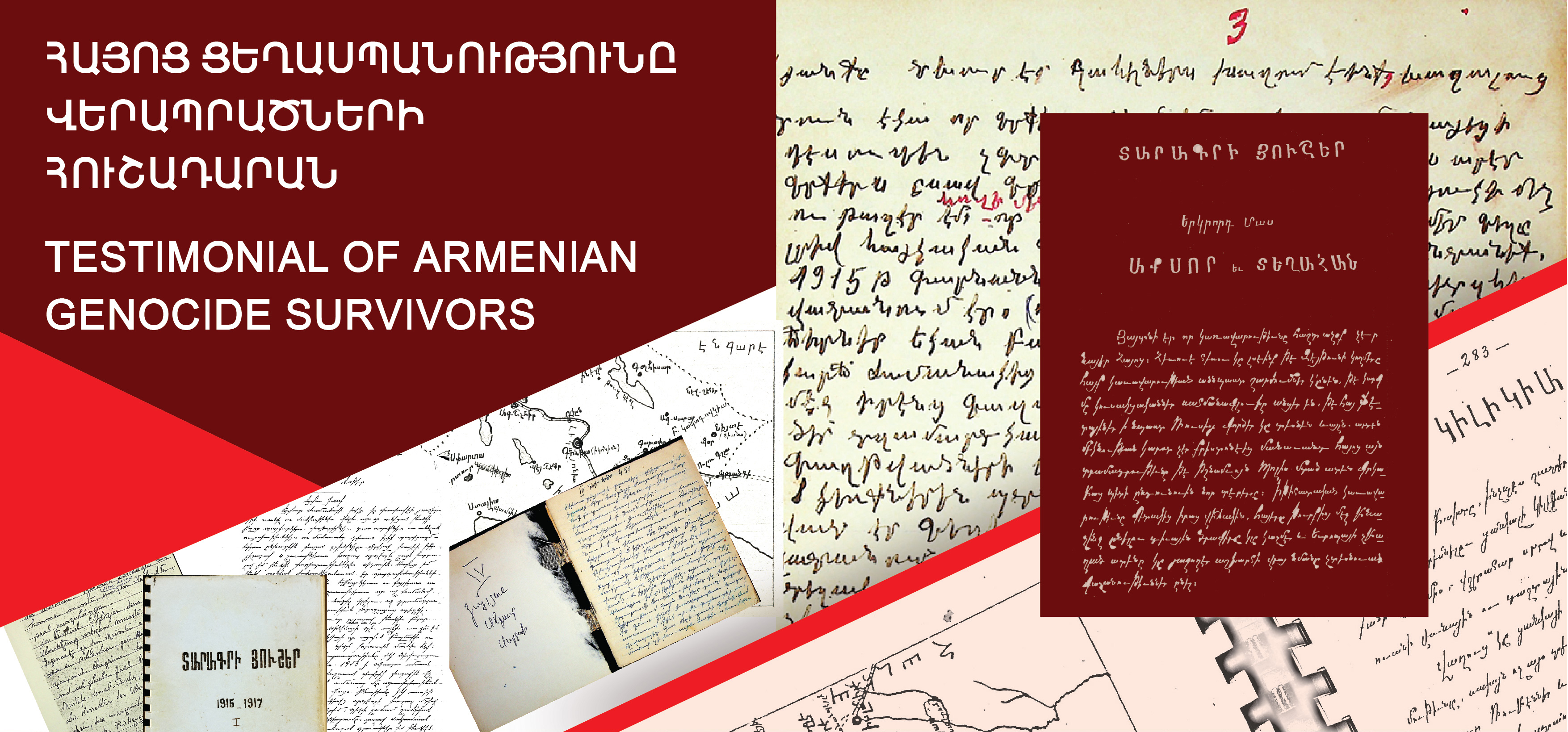 THE AGMI COLLECTION OF UNPUBLISHED MEMOIRS


ONLINE EXHIBITION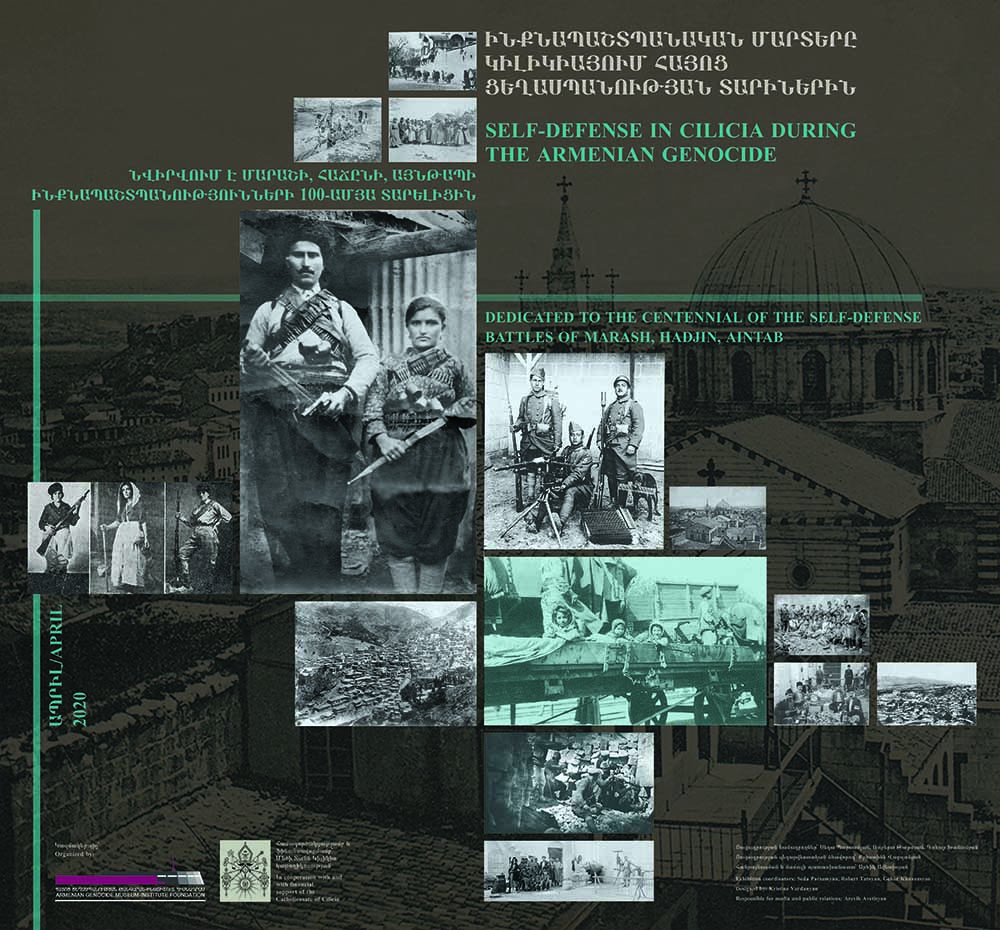 SELF-DEFENSE IN CILICIA DURING THE ARMENIAN GENOCIDE

DEDICATED TO THE CENTENNIAL OF THE SELF-DEFENSE BATTLES OF MARASH, HADJIN, AINTAB
LEMKIN SCHOLARSHIP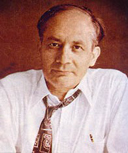 AGMI ANNOUNCES 2022
LEMKIN SCHOLARSHIP FOR FOREIGN STUDENTS
TRANSFER YOUR MEMORY
Share your family story, Transfer your memory to generations.
On the eve of April 24, the Armenian Genocide Museum-Institute undertakes an initiative "transfer your memory".