20.03.2021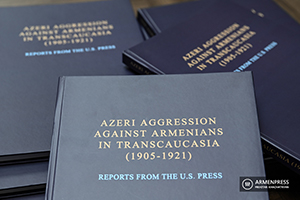 Ara Ketibian, the Australian-Armenian literary critic and co-author of the multi-volume book "The Armenian Genocide: Prelude and Aftermath. As reported in the U.S. Press", presented his book "Azeri Aggression against Armenians in Transcaucasia (1905-1921). Reports from the U.S. Press," in the Armenian Genocide Museum-Institute Foundation conference hall on March 19, 2021.
AGMI Director Harutyun Marutyan welcomed the guests and, in his speech, mentioned that the book has been written during the difficult days of the Second Artsakh War. Its aim was to present the depth of the Artsakh issue and American press coverage of the events of a hundred years ago to the public. He highlighted the author's extensive work and added that the new book contains a wealth of material for researchers.
The author Ara Ketibian stated that the book is the ideological continuation of the multi-volume "The Armenian Genocide. Prelude and Aftermath. As reported in the U.S. Press." Thus, Tatar aggression against Armenians presented in six authoritative American periodicals: The New York Times, The Boston Daily Globe, The Chicago Tribune, The Christian Science Monitor, The Los Angeles Times and The Washington Post became available to the readers in chronological order. The book presents eyewitness testimonies, reports, photos, maps, etc.
Ara Ketibian said that the main reason for writing the book was to refute the erroneous assertions made by the international media during the Second Artsakh War, that the Armenian-Azerbaijani controversy had arisen in the late 1980s and the beginning of 1990s. The author drew parallels between the first Artsakh War that took place at the beginning of the 20th century and this last one, remarking that in both cases there was Turkish military intervention and that the international community displayed indifference.
AGMI post-graduate student Hayk Mkrtchyan first presented the author's professional life, then revealed the great value of the book, which is based on the analysis of private publications. He said that this is a great achievement and very useful for specialists, researchers and a wide range of readers interested in the topic.
The attendees also had the opportunity to direct their questions to the author.