19.01.2023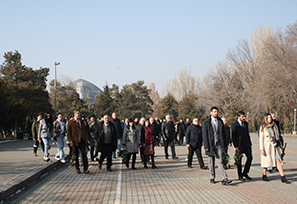 A group of deputies of the RA National Assembly, representatives and teaching staff of Yerevan State University and Armenian State Pedagogical University, as well as many students and citizens, all paid their respects to the memory of the Armenians who died in the 1990 Baku pogroms, visiting the heights of Tsitsernakaberd today. They laid flowers near the khachkar erected in memory of the victims of those massacres organised by the Azerbaijani government.
The pogroms against the Armenian population of Baku, which took place between January 13 and 19, 1990, should be considered in the context of the ethnic violence and anti-Armenian policy carried out against the Armenian population living in the Azerbaijan SSR in 1988-1990. The first manifestation of this policy was the massacre of the Armenian population of the city of Sumgait during February 27 and 29, 1988. The lack of appropriate legal and political assessment of the Sumgait pogroms created an atmosphere of impunity, which contributed to the further expansion and continuation of anti-Armenian violence. The next target of anti-Armenian violence in Azerbaijan in November-December 1988 was the city of Kirovabad and its neighbouring settlements.
Demonstrations were organised by the "Azerbaijan Popular Front" in Baku, where the slogans "Death to the Armenians" and "Glory to the heroes of Sumgait" were sounded from January 11, 1990, onwards. On January 13, the demonstrations there became mass events. Groups of thugs were selected and sent to prearranged Armenian addresses. Throughout the massacre, the city's law enforcement agencies showed criminal inaction (and, according to a number of testimonies, also participated in them). The massacre of the Armenian population in the city continued for about a week, until January 19. Killings took place, severe physical injuries were caused, as were mental health disturbances and torture, burnings and rapes were all carried out.
As in other Armenian-populated regions of Azerbaijan, the exact number of victims of the Baku massacres is unknown. There was no investigation, identification and punishment of the organisers and participants of the crime after the events took place.
Gayane Hovhannesyan
AGMI researcher, Department of the study of the repression of the Armenians in Artsakh, Nakhichevan and Azerbaijan