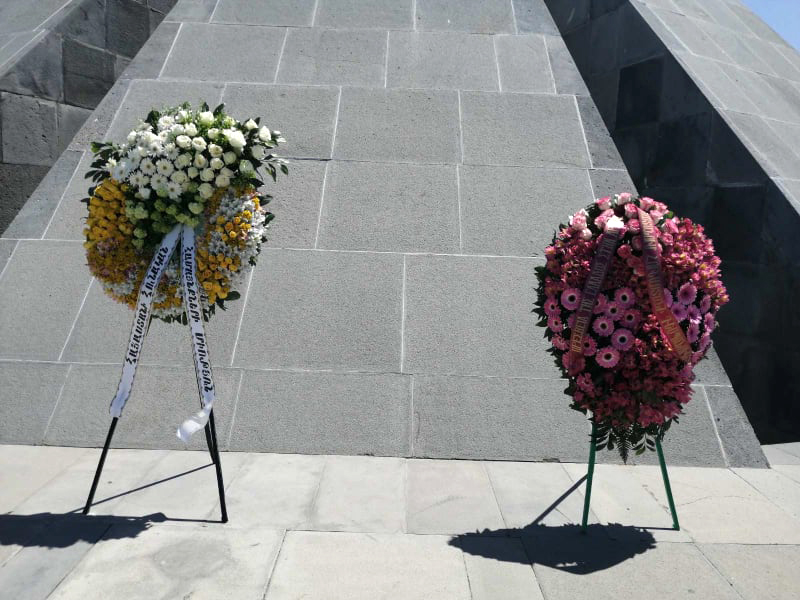 On May 19, the Greek Genocide Remembrance Day, the Union of Greek Communities of Armenia, representatives of the Embassy of the Hellenic Republic in Armenia, as well as the Director of the Armenian Genocide Museum-Institute Foundation, Dr Harutyun Marutyan and a senior researcher of AGMI Department of Organizing Museum Exhibitions Dr Tehmine Martoyan paid tribute to the memory of the innocent victims at the Armenian Genocide Memorial.
After the ceremony of laying flowers at the Eternal Fire, the President of the Union of Greek Communities of Armenia Maria Lazareva delivered a speech in memory and remembrance of the victims. Speeches were also delivered on behalf of the Greek Embassy, community representatives, followed by Mr. Harutyun Marutyan and Mrs. Tehmine Martoyan.
AGMI Director Harutyun Marutyan touched upon the centuries-old relations between the Armenian and Greek peoples, the historical past of the two peoples who had fell victim to the genocidal policy of the Ottoman Empire and the prospects of cooperation in their common struggle.
Tehmine Martoyan presented the comprehensive history of the Greek Genocide: the extreme Young Turk nationalist manifestations towards the Greek population of Pontus, the stages of the genocide, the examples of forced Islamization, the theses of the Turkish denial of the Greek Genocide, etc.