22.04.2023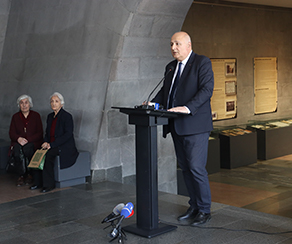 On April 21st, this year's temporary exhibition was opened at the Armenian Genocide Museum-Institute: "Melkon could not be Nejib...Forcible child transfer the Armenian Genocide." This opening ceremony was attended by the Extraordinary and Plenipotentiary Ambassador of the Syrian Arab Republic Nora Arisyan, President of AGBU Armenia Vasken Yacoubian, Director of the National Archives of Armenia Artur Stepanyan, President of the "Pyunik" Foundation Gabriel Chamberjian, and Perchuhi Postaljian—the daughter of survivor and author Yervand Postaljian, one of the Armenian orphans of the Turkish orphanage of Adana—in addition to professors, students and other attendees from around the globe.
AGMI Director Harutyun Marutyan welcomed the audience, noting that this exhibition would highlight a particularly cruel element of the atrocities committed against Armenians to its audience: the trauma incurred and shouldered by Armenian children during the Armenian Genocide.
Following these remarks, Edita Gzoyan, the co-author of the exhibition and Deputy Scientific Director of the AGMI, spoke at length about the exhibition. Thanking her colleagues who participated in the preparation of the exhibition, she noted that the team experienced both difficulty and emotional moments while preparing the exhibition, as it involved engaging with the stories of Armenian children who appeared in Turkish orphanages or Islamic families during the Armenian Genocide—and their vividly-written accounts of the intense abuse they experienced.
Gzoyan delivered this speech in the presence of eighty-four-year-old Perchuhi Postaljiian, the daughter of Yervand Postaljian—one of the Armenian orphans institutionalized within the Turkish orphanage in Adana. Perchuchi, despite the time that has lapsed since her father passed away, vividly remembered "his boundless love for Armenia."
Following this, Gzoyan presented the exhibition, walking the audience through each of the panels and presenting the research underpinning each one.
This temporary exhibition, offered in both Armenian and English, presents rich photographic and documentary material within the framework of 9 titles. Apart from the forcible transfer during the Armenian Genocide, other cases of forcible transfer of children throughout history are also presented.
This exhibition is thematically exceptional, as unique documentary material housed in the museum's archives is being circulated for the first time in its history.
This special exhibition will be on display until April of 2024.