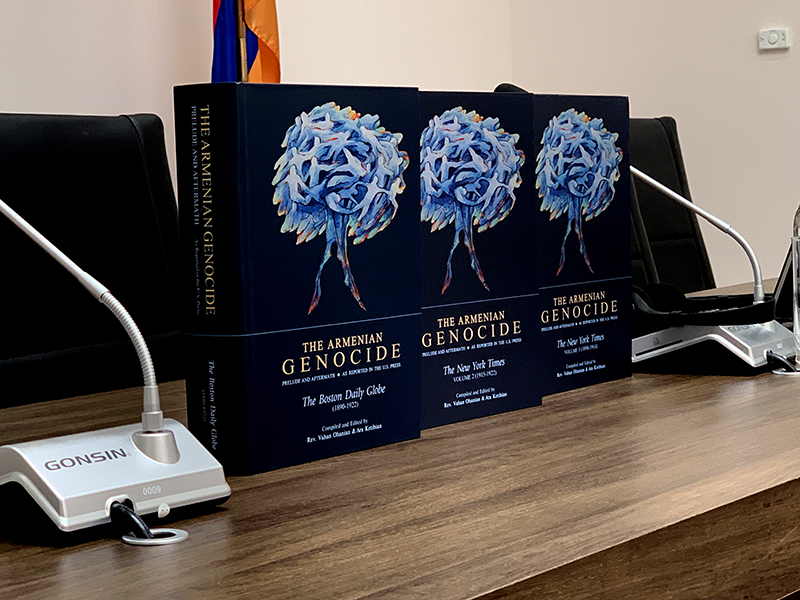 On March 20, a meeting took place with the authors of the collections of articles about the Armenian Genocide, published in the American press in 1890-1922 - Father of the Mekhitarist Congregation Vahan Ohanian and Australian-Armenian Ara Ketibian, at the Conference Hall of the Armenian Genocide Museum-Institute Foundation.
The publication of volumes «The Armenian Genocide: Prelude and Aftermath. As reported in the U.S. Press» has become possible thanks to the support of VivaCell-MTS General Manager Ralph Yirikian.
Harutyun Marutyan, the director of the Armenian Genocide Museum-institute Foundation, has presented a welcoming speech, and handed over the "Aurora Mardiganian" commemorative medal to the authors of the volumes for the compilation of these books and hence the contribution to the scholarship on the Armenian Genocide.
Ralph Yirikian, the General Manager of VivaCell-MTS, has also delivered a speech, and highlighted the importance of publishing these volumes, especially for the international community and researchers.
The authors of the volumes has noted, that the books made available in a chronological order series of documents, news, eyewitness testimonies, programs, photos, etc. on the Armenian Genocide.
The material included the Hammidian massacres of 1894-1896, the Adana massacre, the Armenian Genocide and the immediate aftermath of those notorious events.
Currently, the first three volumes of the 10-volume English edition are available to the readers, summarizing thousands of pages of
The New York Times
and
The Boston Daily Globe.
Those, who have attended the event, also have an opportunity to ask questions to the authors, listen to their comments.