20.09.2016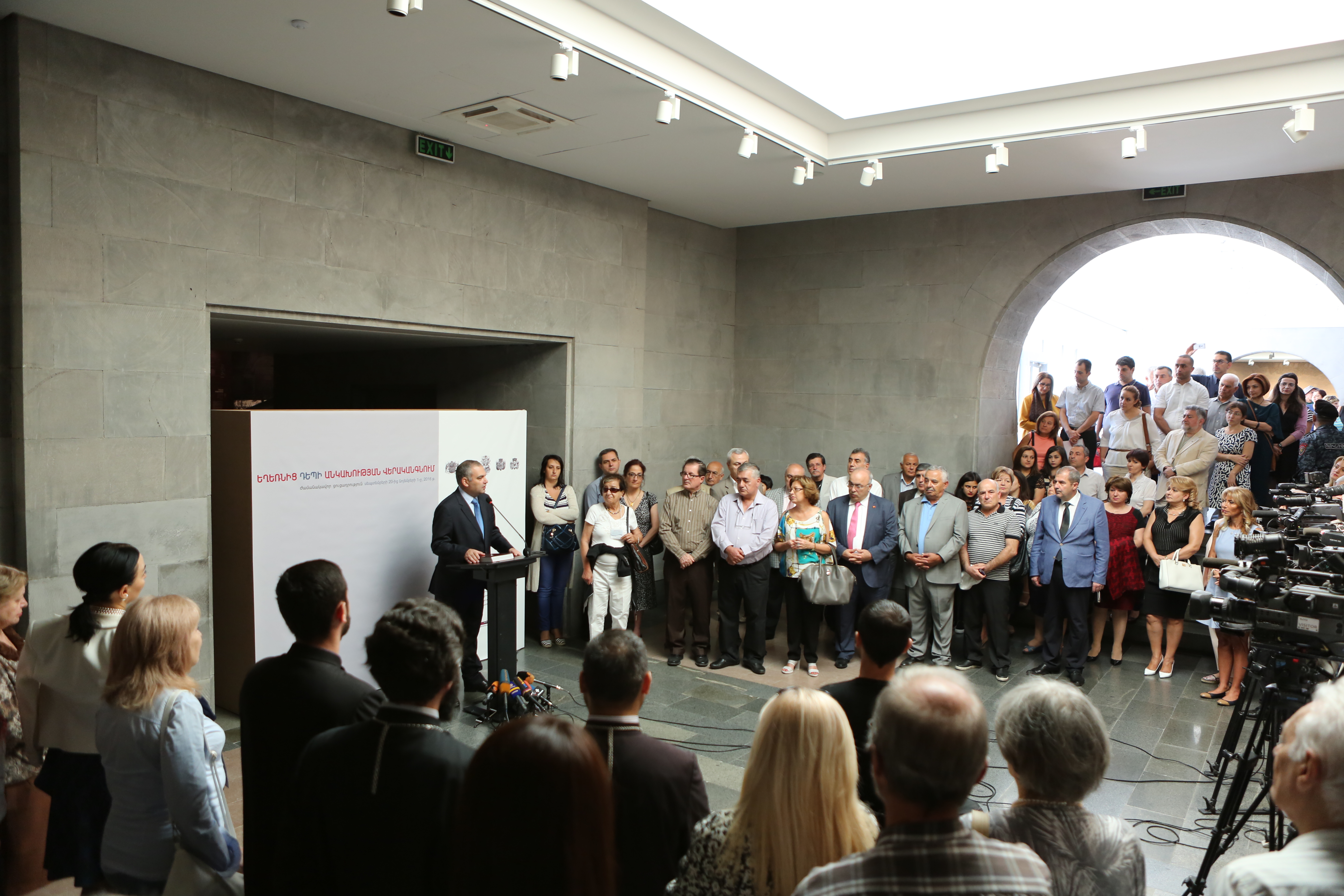 A new temporary exhibition titled "From Genocide to the Restoration of Independence" has opened today at the Armenian Genocide Museum-Institute.
The exhibition is dedicated to the 25th anniversary of the independence of Armenia. It includes rare historical flags and coats of arms made in XVIII-XX centuries, during the period of liberation struggle. Exclusive samples of flags and coats of arms prepared by Armenian orphans after the Genocide are also included in this exhibition.
Most of the artifacts exhibited from the collection of the Armenian Genocide Museum-Institute, different museums in Armenia and abroad are presented for the first time. This iconography includes carpets, engravings, posters, silver items, stamps, postcards, books and albums, as well as various compositions with the image of "Mother Armenia".
This exhibition besides being educative and instructive it is also a special message in sense of reverence and respect towards the supreme value- independent statehood and its symbols.
The exhibition includes items from the collections of different museums and cultural centers in Armenia and Diaspora, including: Armenian Genocide Museum-Institute, ARF History Museum, Archive of S.D Hunchakyan party, "Ararat Eskijian" Museum (Los Angeles), Armenian American Museum (Boston), Armenian National Archive, History Museum of Armenia, National Library of Armenia, Ethnographic Museum of Sardarapat, National Association for Armenian Studies and Research (Boston), Museum of Mkhitarian Congregation (Vienna), Museum of Karen Jeppe (Denmark).
"This is our national identity, the completion and condensation of our national liberation struggle, ambitions, emotions and most importantly, the anticipation of statehood. These items are the original carriers of state symbols, made by our grandparents, creating and inscribing them on metals, wood, paper, etc.", said AGMI Director Hayk Dempyan in his opening speech.
Mr. Demoyan particularly stressed the greatest sacrifice f the statehood was the Genocide, because most of the martyrs had the desire to live free in independent Armenia. It is no coincidence that the Armenian Genocide orphans, widows, survivors were continually drawing, inscribing various images of Armenian flags and emblems.
AGMI Director expressed his gratitude to the all partners, who supported and took part in the cooperation with different museums in Armenia and Diaspora as a result of which this exhibition was opened presenting about 200 unique items.
The general partner of the exhibition is VivaCell-MTS.
The long-standing partner of this project is the benefactor Gabriel Chemberjian, who supported the publication of the book "Armenian National Symbols" back in 2012, which is considered to be the original catalog of this exhibition.