20.09.2023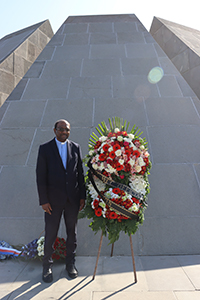 The World Council of Churches delegation, led by its Secretary General Rev. Dr. Jerry Pillay, visited the Armenian Genocide Memorial on September 20, accompanied by the Vice Chairman of the Central Commission of the Council of Churches Archbishop Vigen Aikazyan.
The Secretary General of the World Council of Churches laid a wreath at the Genocide Monument, after which the guests laid flowers at the Eternal Fire and observed a minute's silence in memory of the innocent martyrs of the Armenian Genocide.
The guests then toured the Armenian Genocide Museum, accompanied by Shushan Khachatryan, head of the Armenian Genocide Museum-Institute's Armenian Genocide Victims' and Survivors Documentation and Research Department and became acquainted with its permanent and temporary exhibitions, after which Rev. Dr. Jerry Pillay left a note in the Memory Book reserved for honoured guests.