21.11.2015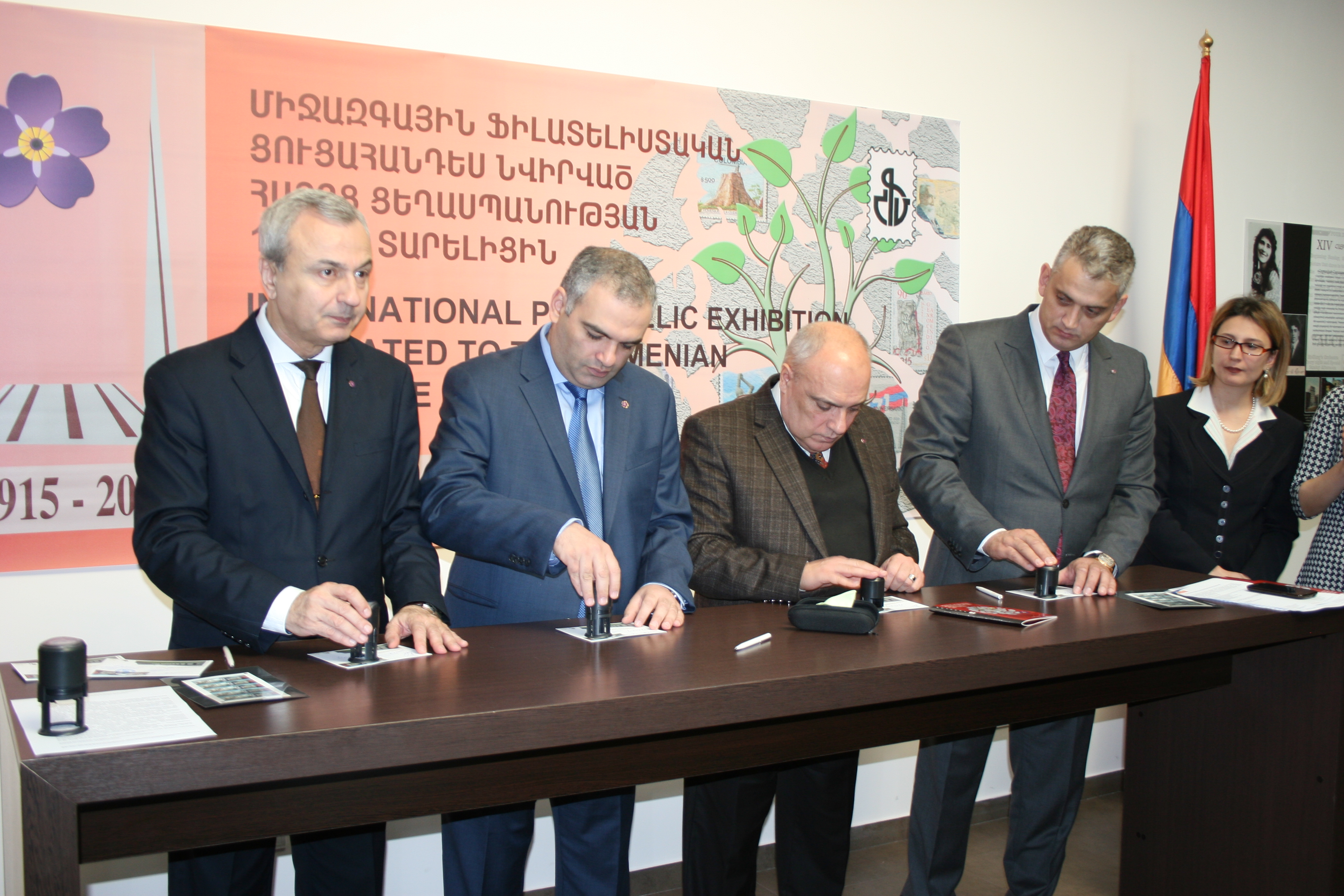 In 21 November, within the framework of Philatelic exhibition two new stamps dedicated to "Armenian Museums: Armenian Genocide Museum-Institute" were canceled and put into circulation at AGMI.
The building of Armenian Genocide Museum-Institute, as well as parts of the museum permanent exhibition is depicted on the stamps.
At the same day, International Philatelic Exhibition opened in AGMI conference hall dedicated to the centennial of Armenian Genocide. Around 40 participants have presented their collections in this unprecedented international exhibition. The participants were from Armenia, Republic of Artsakh, USA, Argentina, Russian Federation, Lithuania and Ukraine. The exhibition was organized by Armenian Union of Philatelists, RA Ministry of Transport and Communications, and "Haypost" CJSC. The aim of this exhibition is to raise awareness of genocides and the need for prevention and elimination of their consequences throughout philately, and to introduce this tragic page of world history to the Armenian and foreign audience.
AGMI Director Hayk Demoyan mentioned: "This is not only a mere philatelic exhibition. It is meant to make a reference once again to the Armenian Genocide and generally to all genocides, crimes against humanity, as a call and massage to condemn and prevent them. This is a unique and unprecedented event, because through philately and in philately language we refer to this heinous crime and to ensure a certain field of awareness through this format".
Director of AGMI reminded that before 100 years Philately took part in some humanitarian initiatives. The first non-postal but philatelic stamps issued in 1916-1918 had a contribution in fundraising campaigns in benefit of Genocide survivors. Few rare original stamp samples are displayed in the permanent exhibition of the museum.
The exhibition will be open from 21 to 24 November, in the conference hall of Armenian Genocide Museum-Institute, and from 25 to 27 November at Citadel Business center.
The closing ceremony of the exhibition will take place in 27 November, 12:00 PM, in Citadel Business center.