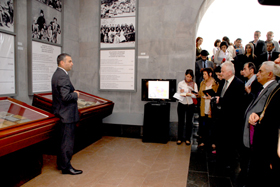 Today the opening of the temporary exhibition titled "Book as a Witness of the Genocide" has taken place in the Armenian Genocide Museum and Institute. The exhibition is organized on the occasion of the 500th anniversary of the Armenian printing and the proclamation of Yerevan as 2012 World Book Capital City by UNESCO. The exhibition includes about 300 first editions on the subject of the Armenian Genocide, which are either printed early or are primary sources.
Hayk Demoyan, the director of the Armenian Genocide Museum and Institute, expressed gratitude to Serzh Sargsyan, the President of the Republic of Armenia, Jevan Cheloyants (Moscow), Ralph Yirikian, VivaCell-MTS General Manager,Tigran Kalayjyan (Cyprus) and "Pyunik" All Armenian Relief Fund, Matthias Bjørnlund (Denmark), Laura Daun (Sweden), Suren Bayramyan (Egypt), Rouben Galichian and others in his opening speech, because due to their support and donations a large number of valuable and rare books have been acquired during last five years and are presented in the exhibition.
Afterwards Hayk Demoyan introduced guests and journalists to the temporary exhibition.
By the decision of the scientific council of the AGMI Ralph Yirikian was awarded with Fridtjof Nansen gold medal, issued in the nomination of "Gratitude", for the support to AGMI.