24.04.2015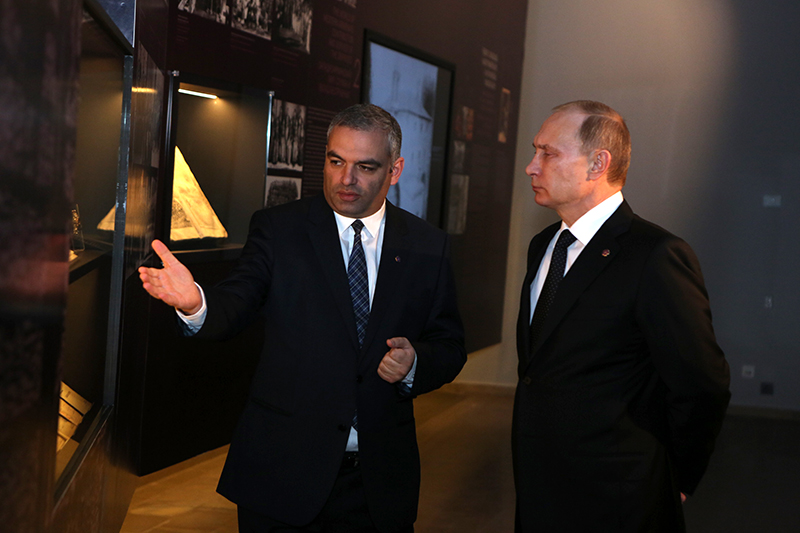 On Aril 24 by the invitation of President of RA Serzh Sargsyan the presidents of Russian Federation, France, Serbia and Cyprus visited Armenian Genocide Museum-Institute to take part in commemoration of victims of the Armenian Genocide.
The presidents of Russia, France, Serbia and Cyprus toured Armenian Genocide Museum-Institute and got acquainted with the new permanent exhibition.
After the tour the four presidents made notes in register for honoured guests.
The presidents were impressed with the newly-opened museum exhibition.
The museum space is expanded by 2.5 times, offering 2400 sq/m. New technologies, design approaches and solutions widely used in the world museum practice are first applied in Armenia. The content solutions of the museum exhibitions, textual materials and explanatory notes are based on the recent scientific and methodological developments in the field of genocide studies. They were prepared in three languages (Armenian, English and Russian) and are the result of the joint and meticulous work of the AGMI staff. Some advisory support has been provided by the museum expert group, established by the State Commission on the Events dedicated to the Centennial of the Armenian Genocide.
The permanent exhibition of the museum houses thousands of new materials acquired as a result of collection works carried out during the last 7-8 years. Part of the materials is presented in print, as well as through multimedia (projectors and touch-screens). Original and unique photos, books, documents and other items are also presented. The new exhibition space consists of twelve halls instead of former three. The exhibition has 52 main titles.