24.09.2023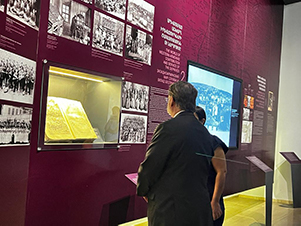 A US congressional delegation, led by US Senator Gerry Peters, visited the Armenian Genocide Memorial on September 24.
The guests were welcomed by Edita Gzoyan, AGMI Deputy Scientific Director, who presented the history of the creation of the Memorial complex. She then narrated the story of the three khachkars placed in Tsitsernakaberd in memory of the Armenians who died in the massacres organised by the government of Azerbaijan in the cities of Sumgait, Kirovabad (Gandzak) and Baku at the end of the 20th century, as well as the stories of the five freedom fighters buried in front of Memory Wall during the Artsakh struggle of survival, emphasising the connection between the Armenian Genocide and contemporary acts of persecution and violence against Armenians. Edita Gzoyan also referred to the historical and legal aspects of the Artsakh issue and presented Azerbaijan's anti-Armenian actions and propaganda.
Senator Gerry Peters laid a wreath at the Genocide Monument, after which the accompanying guests laid flowers at the Eternal Fire and observed a minute's silence in memory of the innocent martyrs of the Armenian Genocide.
The guests also toured the Armenian Genocide Museum and became acquainted with the permanent and temporary exhibitions, after which Senator Gerry Peters left a note in the Memory Book for honoured guests.