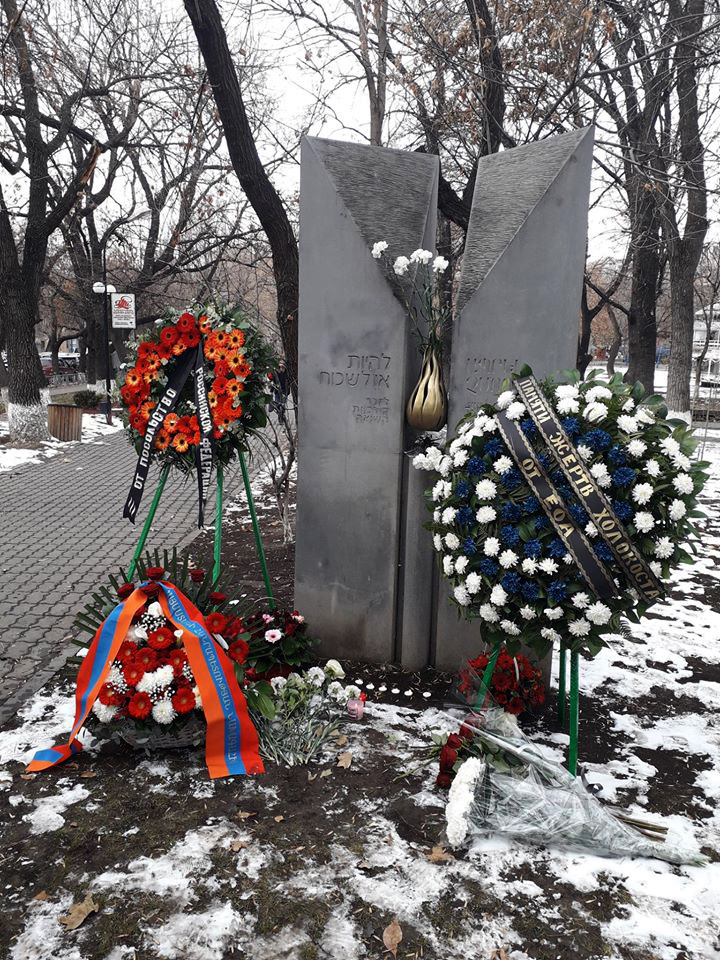 On January 24, the Jewish community in Armenia headed by Rima Varjapetyan gathered at the monument of the Holocaust and Armenian Genocide victims to pay tribute to the memory of the Holocaust martyrs.
The event was attended also by Harutyun Marutyan, Director of Armenian Genocide Museum-Institute Foundation, as well as Hayk Kotanjyan, Lieutenant General, Head of the Armenian-Jewish Forum, Professor, Jonathan Lacot, Ambassador Extraordinary and Plenipotentiary of France to the Republic of Armenia, representatives of other national minorities residing in the Republic of Armenia and prominent figures.
The opening speech was made by Mrs. Varjapetyan.
A speech was also delivered by Dr. Harutyun Marutyan, who mentioned in particular:
"Today, January 27, is the Holocaust Remembrance Day. The whole world condemns the Jewish genocide. The decision of the United Nations in 2005 to mark - to honor the memory of innocent victims and educate the public first of all to prevent possible genocides".
The AGMI Director also noted that the Armenian Genocide Museum-Institute for the first time is organizing Holocaust Remembrance Week, which will be held in 24-31 January in 2020, dedicated to the 75th anniversary of the liberation of Auschwitz-Birkenau concentration camp and the end of World War II.
Earlier, Mr. Marutyan mentioned that the "Holocaust Remembrance Week" would begin and form a new tradition at the Armenian Genocide Museum-Institute and similar events will be organized to commemorate different genocides throughout the year;
"We want as well to organize memorial days or memorial weeks for the national minorities living in Armenia who has shared the bitter fate of the genocide, I mean the Assyrians, the Greeks, the Yazidis".
"To live, not to forget ... in memory of the victims of the Armenian and Jewish Genocide"
is written on the monument.