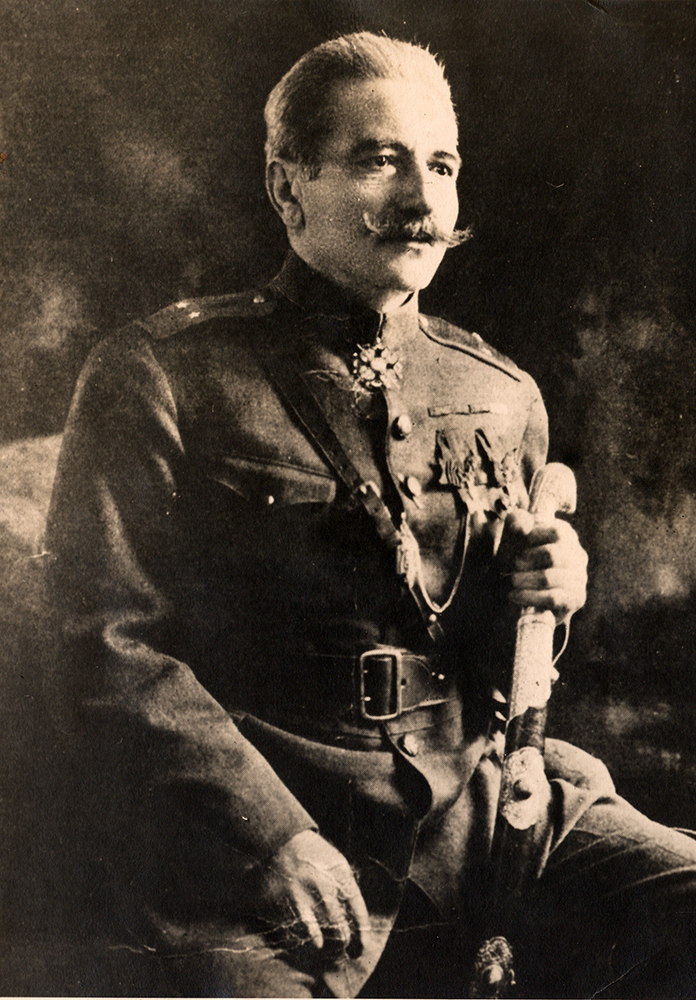 Armenian national liberation figure, military leader Andranik Ozanyan ( Andranik Commander) was born in Shapin-Garahisar (Sebinkarahisar ) on February 25, 1865. Having obtained the fame of national hero, Andranik had a special role in the Armenian liberation movement at the end of 19th and in the beginning of 20th centuries. Andranik became a member of the Armenian Revolutionary Federation-Dashnaktsutyun party in 1892 and participated in the defense of the motherland with other fedayins.
He played an important role in organizing the Armenian voluntary movement during World War I.
Leading hard defensive fights in Erzurum in 1918, Andranik rescued Armenians escaping from Turkish massacres.
Andranik Ozanyan has inestimable contribution to the national liberation movement, as well as in saving Armenian migrants who lost their homeland as a result of "Mets Eghern" from impending death and organizing orphans' collection works.
Andranik Ozanyan died in Chico (The USA) in August 31, 1927.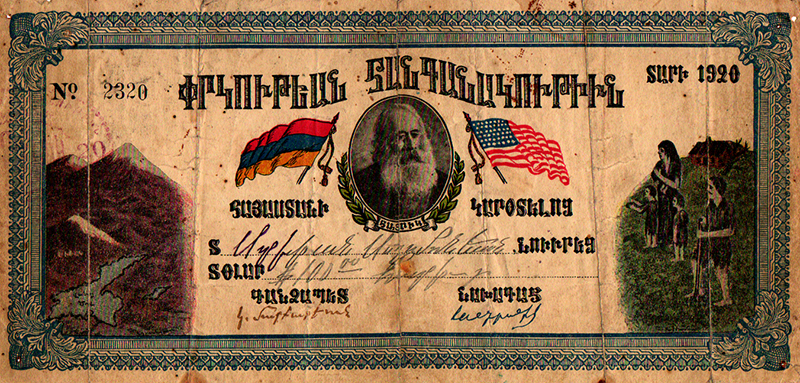 Donation bill with Andranik Ozanyan's signature
This bill was published in the USA at the end of 1919 by the Central Committee "Donation of Rescue" which was led by Andranik Ozanyan. The bill has "Prkutean hanganakutiun Hayastani karoteloc" (Donation of Rescue for Armenian needy people) note. Khrimyan Hayrik's (Mkrtich Khrimyan) portrait is illustrated in the center, in the oval-shaped circle, on the half of the circled laural wreath is written "Hayrik" ("Father"). The flag of the USA is on the right side of the picture and on the left side the flag of the First Republic of Armenia is illustrated. The donator's name is written on the bill, Stepan Soghomonyan, as well as the amount of donation, 100 dollars. The committee's president Andranik Ozanyan's and cashier K. Margaryan's signatures are bellow on the bill.
In the right corner there is a picture of a needy Armenian family: a father, a mother and two children, one of which with outstretched hands begging money or bread. Armenia (with Ararat and Sipan Mountains and Lake of Van) is illustrated in the left corner.
From the special project «100 Real facts about the Armenian Genocide».
The Armenian Genocide Museum-Institute.
© The Armenian Genocide Museum-Institute.