25.04.2015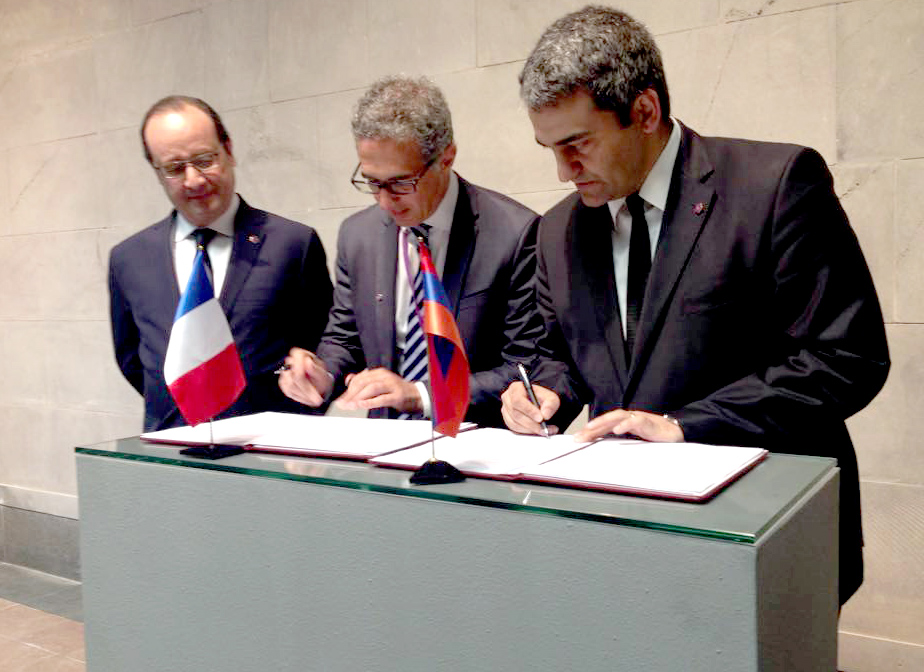 On April 24 the Armenian Genocide Museum-Institute and the Shoah Memorial in Paris signed a Cooperation Agreement. President of France François Hollande, who had arrived in Armenia to participate in the Centennial events of the Armenian Genocide, also attended the signing ceremony.
According to this agreement the sides undertake to organize courses on the Armenian Genocide and Holocaust, educational meetings, exchange Armenian Genocide and Holocaust documents, research document sources in France, organize exhibitions, seminars, etc. The agreement states: "Our common desire is to develop the research exchanges of memory, education and Holocaust between the two countries.
Convinced, that this cooperation contributes to the maximum recognition, both in France and Armenia, of the Armenian Genocide and extermination of Jews in Europe and massacres of XX century, and at the same time adhering to the values of transferring the knowledge, and keeping the memory of the victims, in order to educate the coming generations and prevent the possibility of the repetition of such crimes".
Recall, that the AGMI Director Hayk Demoyan started negotiations of this agreement with the Shoah Memorial Director Jacque Fredj a year ago.