25.05.2023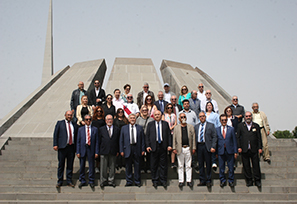 Trees were planted on an area of the Armenian Genocide Memorial Complex on the initiative of the Armenian Genocide Museum-Institute (AGMI) directorate and with the assistance of the Central Board of the Armenian Democratic Liberal Party – Ramgavar (ADL) on May 23. They were planted in an area of about 7,000 square metres and more will be planted on another 1.5 hectares in the future. Participants involved were members of Ramgavar Party, AGMI employees, as well as students and teachers of the following Yerevan schools: the Vardanants Aspetner No. 106, Gagik Stepanyan No. 135, Ashot Navasardyan No. 196, Lev Tolstoy No. 128 and the Artashes Shahinyan Physical and Mathematical Special School.
However, before the actual tree planting began, members of the ADL laid a wreath at the memorial to the victims of the Armenian Genocide, then placed flowers near the Eternal Fire and observed a minute's silence in memory of the innocent victims of the Armenian Genocide.
After the trees were planted, the renovated and refurbished AGMI "Painting, Sculpture, and Applied Arts" museum collections store was officially opened. AGMI Director Harutyun Marutyan and curator Arevik Smbatyan presented the work carried out to the members of the ADL Central Board and thanked them for their support, emphasising that, from now on, the examples of painting and applied arts held by the AGMI would be preserved in the collections store in accordance with international standards.
AGMI Director Harutyun Marutyan had previously, in the AGMI conference hall, presented the concept and extensive project of turning the 100-hectare green area of the Armenian Genocide Memorial into a memorial park. Armen Shatvoryan, Dean of the Faculty of Architecture of the National University of Architecture and Construction of Armenia, spoke in detail about possible architectural solutions for the memorial park. AGMI Director Harutyun Marutyan expressed hope that, thanks to pan-Armenian efforts, the Memorial Park will become a reality in the future.
At the end of the meeting AGMI Director Harutyun Marutyan awarded Hagop Belekian, a member of the ADL Central Board, the "Aurora Mardiganian" commemorative medal and national philanthropist Nazar Nazarian the "Fridtjof Nansen" commemorative medal (to be passed to him by Mr. Norair Mgrdichian) for the overhaul and refurbishment of the AGMI collections store. Expressing his gratitude for the support provided for the AGMI initiatives, the director also presented certificates of appreciation to ADL Central Board Chairman Mike Kharapian, Deputy Chairman Aleksan Karadanaian and Treasurer Norair Mgrdichian.
At the end of the meeting, both sides expressed the hope that cooperation between the two organisations will be continuous.
In his turn, Mike Kharapian, Chairman of ADL Central Board, awarded AGMI Director Harutyun Marutyan with a medal issued on the 100th anniversary of the founding of the Ramgavar Party.