25.12.2014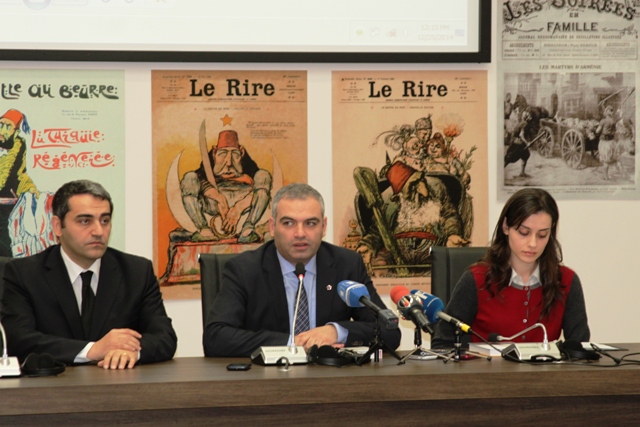 Today, at 12:00 pm the annual press conference of the Armenian Genocide Museum-Institute took place in the conference hall of AGMI.
During the press conference Hayk Demoyan, Director of AGMI and the Secretary of State Commission on coordination of the events dedicated to the 100th Anniversary of the Armenian Genocide represented the current preparatory works of the new exhibition, as well as the events which will be organized by the Armenian Genocide Museum-Institute in 1915. After the press conference the presentation of the book "Turkey's Foreign Policy and the Conflict of Nagorno Karabakh" authered Hayk Demoyan, took place.
Hayk Demoyan noted: "The construction works are completed. The design project of the new exhibition will be ready in few days. The exhibition space of the new museum has been expanded 2,5 times, the museum has new facilities now, exclusive conditions are established for the protection of the stock units museum item, the museum has been equipped with new furniture and technical means", and added, that in April, before the official opening of the museum, a special closed tour for media representatives.
Director of AGMI also touched upon the other projects, particularly to the organization of temporary multilingual and multifunctional exhibitions, international conferences and other events.
Demoyan also mentioned: "We do not limit ourselves only by the regular exhibition of the Genocide Museum in Tsitsernakaberd. Part of our museum items will be exhibited in different cities allover the world. They are varied in themes. Universal exhibition in four languages is also planned, which will be presented in many communities of the Armenian Diaspora. Special exhibitions with multilingual catalogues are planned for each region as well". One of the important achievements of AGMI in 1915 will be the hosting of 12th International Conference of Genocide Scholars, which will be held in Yerevan and will be participated by 300 genocide scholars from allover the world.
Within the framework of "Golden Apricot" film festival a video about Aurora Mardiganian will be screened, and during the Pan-Armenian Games which will took place in Summer 2015, the huge archive about the Armenian Sport in the Ottoman Empire will be presented. In autumn 2015, we are planning to organize a conference titled "Child Victims of the Armenian Genocide".